What is reality TV show Bigg Boss without its dosage of drama? Yesterday's Bigg Boss Telugu 2 episode had the contestants involved in a fun task, after which the elimination process took place. To the shock of the contestants, Babu Gogineni had to leave the show as he did not get the minimum votes to survive in the Bigg Boss house anymore.
Babu Gogineni had become quite famous because of his frank approach in debates on Telugu news channels. He had already earned a good following with his preachings even before he made an entry in Bigg Boss Telugu 2.
Even in the show, Babu Gogineni was given utmost respect as he was a visionary. Most of the housemates were seen seeking Babu's advises and even when he had told them anything annoying, they had respected him.
After Nani's announcement that Babu Gogineni has been eliminated, Bigg Boss Telugu 2 contestants were all shocked and seemed like they were going to miss him. Tanish, Samrat, Deepti Sunaina, Amit, Roll Rida and Ganesh were shown having a brisk conversation with Babu Gogineni before he left.
Babu ensured that he would keep his promise by sending them the books he had mentioned earlier. In this frame of context, the only contestant who was seen staying away from Babu was Kaushal.
Kaushal was seen standing in a corner, while all the other housemates were busy giving a farewell to the genius of the house. After the group selfie, when every other housemate went to Babu, Kaushal stayed back, taking selfies on the phone.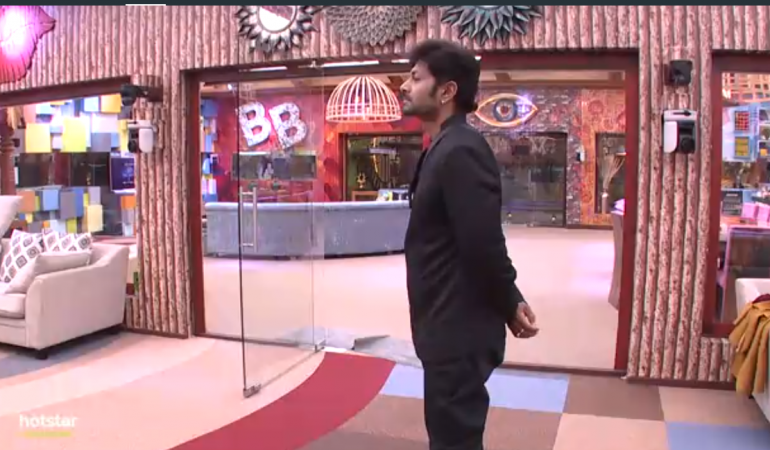 Nutan Naidu, who had bitched about Babu Gogineni whenever possible, was also seen touching his feet and seeking his blessings. But, for all valid reasons, Kaushal stayed away from Babu even before he left the Bigg Boss Telugu 2 show.
Kaushal and Babu Gogineni had petty fights in recent times, which got even personal. The high-pitched fight between the two strong contenders had pulled each other into the nominations in the previous weeks.
Kaushal had mentioned that Babu criticised SS Rajamouli on the Bigg Boss show during one of the survival tasks. This triggered a fight between them.
Babu even tried to paint Kaushal as a thief, as he took away the coins of the women team during the week's luxury budget task. It is obvious that the duo is not ready to patch-up, as they were seen throwing sarcastic comments even in yesterday's fun task.
While Babu Gogineni left Bigg Boss Telugu 2 on a positive note, leaving humble and sweet messages to Samrat and Deepti, he had the respect of all the contestants. Babu also mentioned that he is grateful to all the Bigg Boss mates as they taught him one or the other thing.