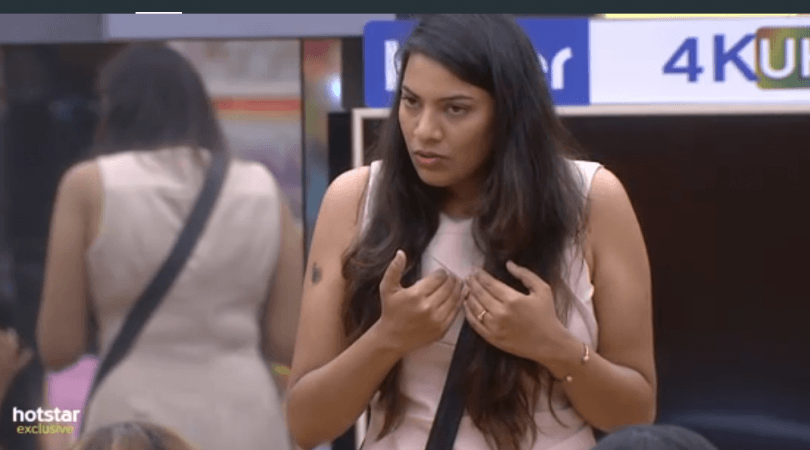 Geetha Madhuri wins immunity for the coming week's eliminations and nominates Kaushal for the entire season.
The drama in Bigg Boss Telugu 2 is getting more intense lately. It is evident that Kaushal has risen as one of the strongest contenders of Bigg Boss Telugu 2. Nani had hinted to the housemates that Kaushal is the most favorite contestant to the audience.
In this frame of context, the other contenders like Geetha Madhuri and Tanish are visibly upset over their positions after Nani hinted about Kaushal being the strongest contestant on the show.
Tanish and Geetha Madhuri are seen discussing the same with the housemates a couple of times.
Who among the 3 should be saved from elimination from Bigg Boss Telugu 2 in week 12?
Geetha Madhuri who is a famous singer had gained the support of the audience only after she supported Kaushal when Tejaswi Madivada and Bhanu Sree cornered him personally.
Despite being good friends, Geetha Madhuri seems to have turned against Kaushal. She is seen nominating him continuously giving the same old reasons in the previous weeks.
On winning a recent task, Geetha Madhuri has now nominated Kaushal for the whole season. When there are other contenders like Amit Tiwari and Ganesh who are mediocre players in the show, how far is it right to nominates Kaushal who is doing all the tasks well?
On the other hand, Geetha Madhuri herself has become a nominal player, who doesn't perform the physical tasks well. She is seen being lazy in the house, doing nearly nothing.
Kaushal is a strong contender, and has gained a huge number of followers outside the house, which is known as Kaushal Army. There is an impression that Kaushal will, however, manage to save himself in every elimination episode. So, is the nomination card wasted by Geetha by using it on Kaushal?
Kaushal's supporters are clearly upset over Geetha Madhuri's nomination. There are hundreds of memes and messages that Kaushal will be supported and saved from the nominations no matter what.