The 47th episode of Bigg Boss Telugu 2 has turned out to be a prickly chapter, with Babu Gogineni yelling at Geetha Madhuri for speaking out her opinion, and there was a huge tiff between them.
Thursday's episode started off with giving another chance to Nandini, Deepti Sunaina, and Ganesh to talk to the members of their family. Of course, nothing comes without conditions in the Bigg Boss house. The three were given options to self-nominate for the whole season or to give away the powers to become the captain for the whole season.
Nandini, Deepti Sunanina, and Ganesh were not ready to accept the conditions and hence could not talk to their loved ones. Roll Rida is seen entertaining the contestants with his rap on Bigg Boss. Most of the house members join and seen enjoying the rap.
Bigg Boss gives a chance to the contestants to impress Pooja Ramachandran by giving her the power to nominate 4 contestants for the captaincy task. Samrat, Geetha Madhuri, Amit, and Deepti get into nominations.
The nominated contestants are given Appy Fizz Statue task. Babu Gogineni throws a bucket of water to push off Deepti from her podium. After that Kaushal does the same with Samrat and Amit.
Geetha wins the captaincy task and she is congratulated for that. She sits on the lawn and starts talking about what was portrayed about Babu Gogineni's treatment with Deepthi. Babu digs some dirt up on Geetha Madhuri.
Though Geetha tried to explain that it was not her intention to rub him up the wrong way, Babu Gogineni did not take the name of finishing off his argument. Geetha even affirmed that she did not want to talk to him.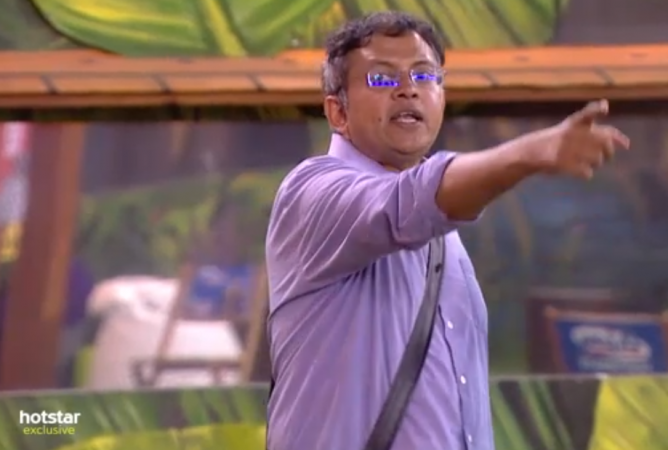 Babu went on, ruffling Geetha Madhuri's feathers up, and degrading her thought process. He yelled at her angrily, "With this mindset, how can you be a captain?" Kaushal shows up defending Geetha Madhuri. Tanish and Samrat try to stop Kaushal but Geetha states she had no problem with Kaushal's defense.
Today's promos hint that Geetha Madhuri gets emotionally cracked. She is shown crying bitterly.