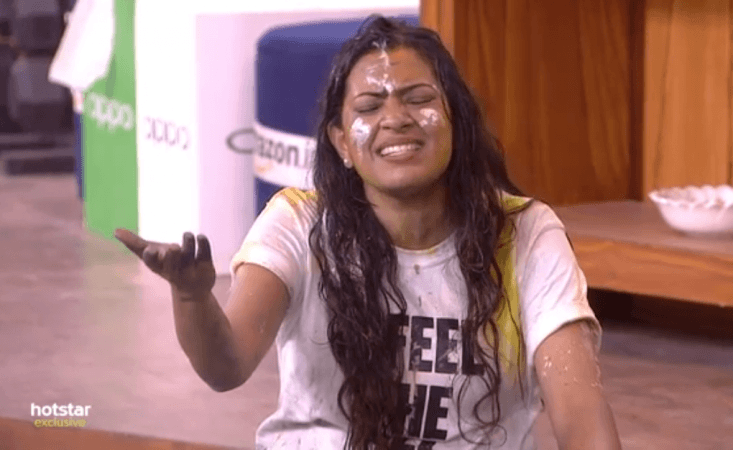 Geetha Madhuri has nominated Kaushal Manda for the entire season of Bigg Boss Telugu 2. And now, she has taken a dig at his supporters by mentioning that he would anyhow get saved by 'Kaushal Army'.
It was earlier reported that Geetha Madhuri had won the 'Murder' task and nominated Kaushal Manda for the entire season after winning the task.
She Madhuri was seen laughing and mocking Kaushal and mentioned that 'Kaushal Army' will save him from the eliminations.
Geetha Madhuri's ruthless nomination has grabbed a huge negativity. The general audience is feeling dejected for trusting Geetha Madhuri to be a sensible and sensitive lady, while Kaushal's supporters are seen raging a war against her.
There are negative trends all over the internet terming Geetha Madhuri as 'shameless' and 'lazy'. Geetha Madhuri has turned out to be over-confident, according to the general audience.
#ShamelessGeethaMadhuri

Geeta u did 2 things, I will never forgive u

If my child/mom cry I feel bad but 2day u made kaushal cry. V r hurt, v cried, our heart are broken

U challenged da army, v will finish alter ego n ur popularity for ever.
Karmy runs da game..u will see it

— Sagaryy (@Sagaryy1) August 30, 2018
Kaushal Manda had nominated Geetha Madhuri earlier when he had no other option. Keeping this in mind, Geetha Madhuri had been targeting him every week, stating the same old reasons.
Though Kaushal appeared like he is trying to sort out the issues with Geetha Madhuri, she has been insensible towards him.
The mention of "Kaushal Army" after nominating Kaushal has become a huge drawback now. Geetha was seen poking Kaushal every now and then along with her rants during the nominations.
Most of the audience opine that Geetha Madhuri has been jealous after she had got an idea of what is happening outside the house. "It is clear that Geetha Madhuri has turned out to be an arrogant person lately. Despite Kaushal trying to make peace, she has not tried to sort out the issues. She keeps nominating him for the repeated reasons", one of the viewers opine.
There is a huge outrage over Geetha Madhuri's reckless behaviour regarding her neglect over the Bigg Boss Telugu 2 rules as well. She maintains to skip the physical tasks and try to give some logic around her losing the task.
In addition to this, she nominates one of the strongest contenders and gives an illogical explanation that he would, however, get saved by his supporters. This shows how seriously Geetha takes her game as.