Amit Tiwari or Shyamala will be evicted from the house of Bigg Boss Telugu 2 in the 13th week, while Kaushal and Deepthi Nallamothu remain safe from the eliminations, as per IBTimes India survey.
Kaushal, Amit Tiwari, Deepthi Nallamothu, and Shyamala were nominated for the elimination for Bigg Boss Telugu 2 in the 13th week. All the viewers were eagerly waiting to see who will be made safe inside the house on Saturday. But host Nani had his regular conversation and spoke to some housemates on September 9 episode. However, he reserved the announcement of eviction for Sunday episode.
Now all eyes are set on the housemates, who would walk about of the house of Bigg Boss Telugu 2. IBTimes India held a week-long survey. Our question to the viewers of the show was – who should be saved from elimination? Thousands of viewers have taken part in this poll. With 10 hours left for the announcement of the eviction, we bring you the results of our survey here.
It is known that Kaushal is the most popular housemate of Bigg Boss Telugu 2. IBTimes India survey gives a clear picture of his fan following. Nearly 75 percent of the viewers voted to save Kaushal, while remaining 25 percent of votes were shared among three other contestants like Deepthi, Shyamala and Amit Tiwari.
In IBTimes India survey, 7.06 percent of the viewers have voted to save Amit Tiwari from eviction from Bigg Boss Telugu 2. Since it is the lowest number, he is the first choice for elimination. Shyamala is the second choice, 8.21 percent of people voted to save. Deepthi Nallamothu has got the support of 10.47 percent of the viewers, who are voted to save her and she is slightly in safe from the danger zone.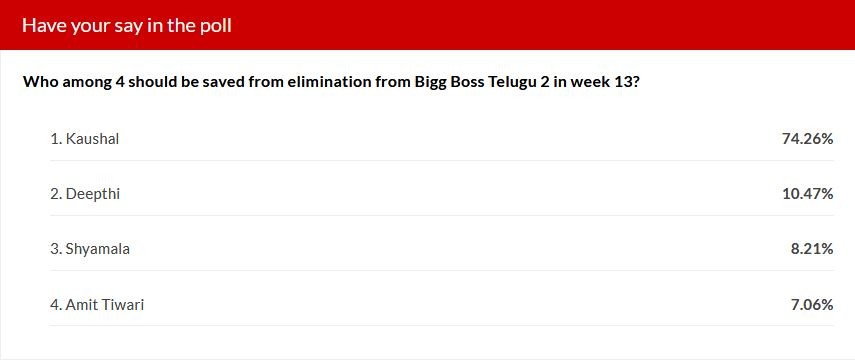 However, Amit Tiwari is the coolest contestant from this season of Bigg Boss Telugu. He has always stayed away from the fights, courting controversy and taking sides of warring groups. Hence, most of the viewers think that he is less entertaining and he should not be saved from the eliminations.