Either Roll Rida or Amit Tiwari may be eliminated from Bigg Boss Telugu 2, while Kaushal, Deepthi Nallamothu and Geetha Madhuri will remain safe from eviction, according to IBTimes India survey.
Big Boss kick-started the nomination process for 14th week elimination on August 10. The housemates were instructed to appear in the lawn area and nominate two contestants by burning their pictures. Kaushal, Deepthi Nallamothu, Roll Rida, Geetha Madhuri, and Amit Tiwari ended up being on the list.
Nani appeared on the August 15 episode of Bigg Boss Telugu 2 and had a regular fun conversation with the housemates. But he did not make an announcement about the contestant, who was eliminated. He is set to send one of the five nominated contestants out of the house on Sunday night.
IBTimes India held a week-long survey to find out which contestants the audience wanted to save inside the house of Bigg Boss Telugu 2. Thousands of viewers have taken part in our poll and cast votes to save their favourite contestants. With hours left for the official announcement about the eviction, we bring you the results of our survey.
It is known that Kaushal has amassed a massive number of fans for himself through his stint inside the house of Bigg Boss Telugu 2. He has topped the list of IBTimes India with 66.73 per cent of the viewers casting votes to save him. Geetha Madhuri and Deepthi Nallamothu are in the second and third places, as they have got 17.95 and 7.22 per cent of the votes.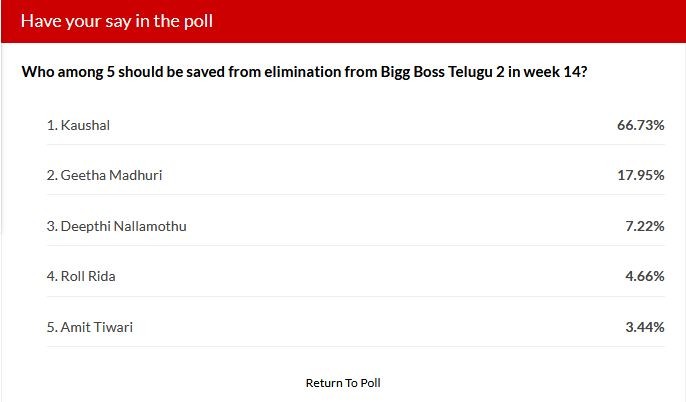 IBTimes India survey shows that Roll Rida and Amit Tiwari are in the danger zone of being eliminated from Bigg Boss Telugu 2, as they have received 4.66 and 3.44 per cent of the total votes, respectively. One of the two housemates are likely to be shown doors on Sunday night.