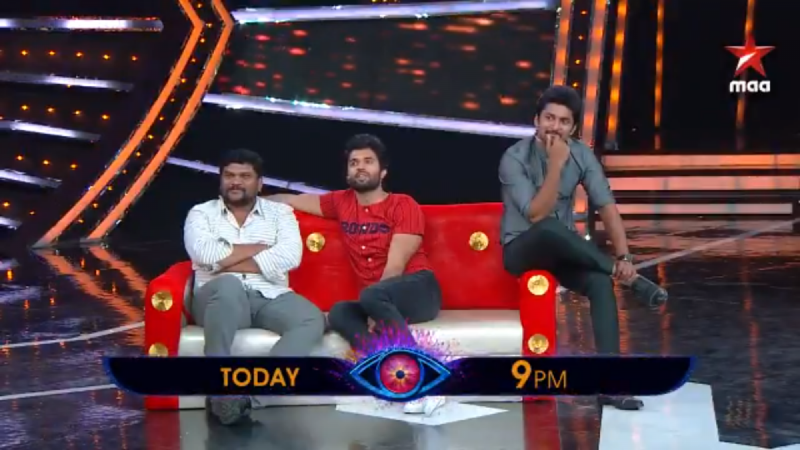 After Nuthan Naidu, Instagram sensation Deepthi Sunaina was evicted from Nani's Bigg Boss Telugu 2 in the 10th week, while Shyamala, Geetha madhuri, Pooja Ramachandran and Roll Rida remained safe from the elimination.
Here is the live updates on Bigg Boss Telugu 2 elimination in 10th week:
10.30 pm: Deepthi Sunaina drops the Bigg Bomb on Tanish, who has to wake up, jump in the pool and dance every day.
10.15 pm: Deepthi Sunaina is shown a video of her Bigg Boss Telugu 2 journey. Deepti Sunaina gets emotional watching the video. Deepthi Sunaina expresses that she had learned a lot of things after coming into Bigg Boss Telugu 2 house. Deepthi Sunaina talks to Tanish and asks him to play the game well. Tanish also has a good conversation with Deepti and asks her to do well. Deepthi Sunaina then talks to Samrat and bids a bye to all of them. Deepti Sunaina tells that she admires Geetha Madhuri a lot. Geetha Madhuri wishes her all the very best.
10.10 pm: Deepthi Sunaina bids a bye to all the housemates. Tanish is seen emotionally down after Sunaina is eliminated. Deepthi Sunaina apologizes to Kaushal for being rude previously. Tanish is seen weeping and Deepthi Sunaina gets emotional too. Deepti is pampered by all the housemates. Deepti Sunaina leaves the house by wishing everyone all the best for their Bigg Boss Telugu 2 house.
10.05 pm: It's eliminations time in Bigg Boss Telugu 2 house. Geetha Madhuri expresses that she was in a belief that there would not be any eliminations this week. Nani tells there is nothing of such kind. Roll Rida is announced to be in the safe zone along with Pooja Ramachandran. Deepti Sunaina is eliminated from Bigg Boss Telugu 2 this week.
10.02 pm: Vijay Deverakonda and Nani pull the legs of Ganesh for his performance. It was fun to watch them having so much fun. Vijay Deverakonda and director Parasuram leave the Bigg Boss Telugu 2 house after greeting all the contestants.
9.58 pm: Nani plays 'Inkem Inkem Kavale' song from Geetha Govindam and the housemates are seen enjoying the melodious song. Everyone is seen performing for the song with excitement.
9.45 pm: Deepti Sunaina is given weird tasks and the show turns out to be an entertaining one. Then Vijay Deverakonda and Nani give a surprise to the housemates by appearing on the screen. They reveal that they had asked Deepti Sunaina to all the weird things.
9.35 pm: Deepti Sunaina is instructed to target Roll Rida and push him into the swimming pool, as the plan fails with Tanish. Deepti is then asked to act as if she is serious. She is asked to tell her housemates that one of the housemates is to jump into the pool to save her from the eliminations. Nani and Vijay Deverakonda regulate her acts. The housemates suspect that Deepti Sunaina's weird behavior is because of her secret task. The housemates have so much fun watching her behave like a kid. Deepti Sunaina stands on the dining table and dances as per the instructions from Nani and Vijay. The housemates almost confirm that she is doing this as a part of the secret task.
9.15 pm: The secret task begins and Deepti Sunaina enters the Bigg Boss house. Deepti Sunaina is seen doing all the things as expected. But, Vijay Deverakonda and Nani get tensed if the Bigg Boss Telugu 2 housemates would find out about the task. It is super fun to see her do as per Vijay Deverakonda and Nani instruct her to do. She tries to push Tanish in the swimming pool by following the instructions from Nani and Vijay Deverakonda. It was an interesting thing to watch how the housemates react to her weird behavior.
9.10 pm: Deepti Sunaina is provided with a Bluetooth and a phone and is asked to perform some tasks, as instructed by Nani and Vijay Deverakonda. Deepti Sunaina is seen super excited to perform the secret task. Nani explains that Deepti Sunaina is a huge fan of Vijay Deverakonda. So, he preps the guests Vijay Deverakonda and Prasuram to give a secret task to Deepthi Sunaina. They request Sunaina to come to the confession room and try to create fun. The phone gets disconnected and Sunaina talks to herself. Vijay Deverakonda and Nani have so much fun. Sunaina is instructed to play the game smartly.
9.05 pm: Nani enters the Bigg Boss Telugu 2 show with a sleek performance for a peppy number from his movie Nenu Local. As usual, he kickstarts the show with an introduction to Vijay Deverakonda and director Parasuram. The latest movie Geetha Govindam being a hit, Vijay Deverakonda and his director make a visit to Bigg Boss Telugu 2.
Geetha Govindam director Prasuram and actor Vijay Deverakonda will be visiting Bigg Boss Telugu 2 show on August 19, Sunday.
Nani would be announcing the results of Bigg Boss Telugu 2 eliminations on Sunday, August 19. Nutan Naidu, who is currently unwell, is out of the house as of now.
Geetha Madhuri, Shyamala, Roll Rida, Nutan Naidu, Pooja Ramachandran, and Deepti Sunaina were nominated for this week's eliminations. It was also announced that Shyamala and Geetha Madhuri fall into the safe zone escaping from today's eliminations.
With Roll Rida, Pooja Ramachandran, and Deepti Sunaina in the elimination zone, the episode is all set to leave the audience stunned at the end of it. The poll predictions on International Business Times, India indicate that Deepti Sunaina is likely to leave the show today.
The latest promos by Bigg Boss Telugu 2 hint that sensational hero Vijay Deverakonda will visit Bigg Boss Telugu 2 show today, along with his director of the recent hit movie Geetha Govindam. According to the promos, the duo can be seen having a lot of fun with the host Nani. He has also ordered Deepti Sunaina to do some odd tasks.