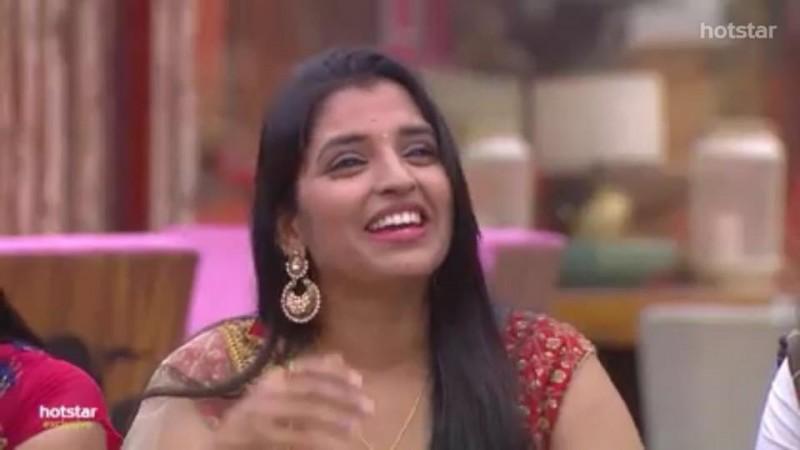 Social media is abuzz with many claiming that anchor and housemate Syamala (Shyamala) has already been evicted from Bigg Boss Telugu 2 and the picture of her post thanking viewers after reaching home has gone viral on Twitter and Facebook.
Weekend episodes are a fun ride for the Bigg Boss Telugu 2 fans, with Nani's stage performance and his observances. The game gets intriguing, when the eliminations are to be announced, as it builds up the viewers' curiosity as to what happens next. Bigg Boss fans are now eagerly waiting for today's episode, as the results of the eliminations are to be out.
With Kireeti Damaraju's elimination last week, fourteen contestants were left out in the Bigg Boss House. Eight among them were nominated for elimination though Geeta Madhuri and Ganesh were back in the safe zone after the Saturday night episode.
Babu Gogineni, Tejaswi, Nandini, Kaushal, Deepti, and Shyamala are the elimination zone this week.
A picture of one of the contestants in the elimination zone is currently making rounds on the social media. And, to everyone's surprise, it is Syamala.
It is a known fact that the shooting of Bigg Boss happens a day before it is telecasted on the television. Shyamala, who seems to be unaware of this logic, has uploaded a picture of herself after she got evicted from the Bigg Boss House.
The picture features Syamala, which was captioned with the hashtags saying that she is happy to be back home. "I am thankful to all the fans, who supported me when I was in the Bigg Boss House. I am happy being home", she had written. Realizing that she had revealed something which is to be kept a secret until the Bigg Boss episode's telecast on Sunday night, the picture was deleted.
In one of our recent polls, our readers had voted for Tejaswi as the one who might be eliminated in Sunday's episode. Though there might be an impression that Tejaswi would get voted out in today's elimination of Bigg Boss Telugu 2, it seems like something unexpected has happened.
While we discuss the latest elimination round, keeping Syamala's blunder aside, let us make an assessment. Amongst the ones who are to get voted out today, Babu Gogineni has good support from the Bigg Boss audience so it is less likely that he gets evicted.
With her budding romance with Samrat, Tejaswi has managed to grab the viewer's attention with her drama, which might save her from the elimination.
Amongst Kaushal, Deepti, Nandini, and Syamala, one of the weakest contestants is the latter. So, there are more chances of her getting evicted in today's Bigg Boss episode.
Follow the live updates from the Bigg Boss House tonight with us.