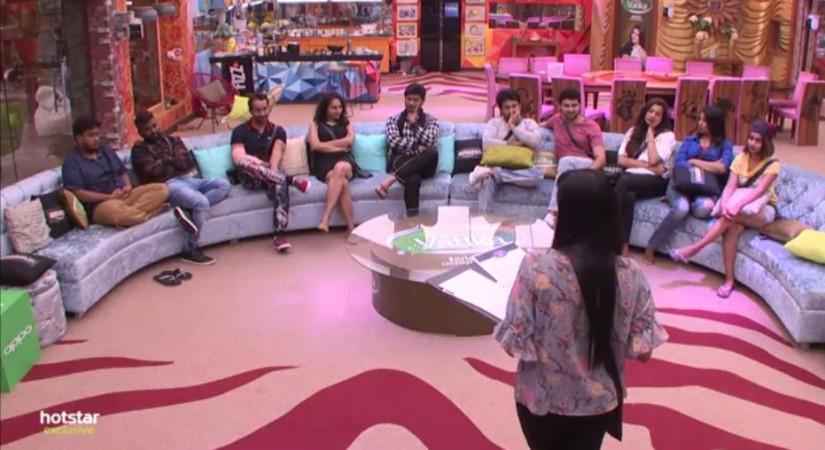 Instagram sensation Deepthi Sunaina may be eliminated from Nani hosted TV show Bigg Boss Telugu 2, according to International Business Times, India poll.
This week, there was a unique process for nomination for the elimination in Bigg Boss Telugu 2. Five couples were formed and a few red coloured danger drums and blue coloured decision drum were placed in the garden area. As per the task, each couple had to step up to the blue decision drum and give reasons as to why they need to be saved.
Tanish was out of nominations as he is the captain of the house. Amit was also safe from it, as Kamal Haasan, who was the guest in the house, had announced that he would not be nominated for two weeks. Both of them had to hear out the reasons of the five pairs and decide on the nominations for eviction.
Six housemates --Shyamala, Geetha Madhuri, Nuthan Naidu, Deepthi Sunaina, Pooja Ramachandran and Roll Rida -- ended up being in the list of nominations for the elimination from Bigg Boss Telugu 2.
Nani revealed on the August 18 episode that Geetha Madhuri and Shyamala are safe from eviction. Other four nominated contestants are in danger zone. One of them will be shown doors on the night of August 19.
IBTimes India held a poll to predict who among the six housemates should be eliminated from Bigg Boss Telugu 2 in the tenth week. Thousands of our readers have cast their votes in this poll.
In our polls, Pooja Ramachandran and Roll Rida have got 7.88 and 6.03 percent of the total number of votes respectively and are likely to be safe inside the house tonight.
Shyamala and Geetha Madhuri have received 15.79 and 12.09 percent of the total number of votes and they have already been made safe from elimination from Bigg Boss Telugu 2. In our poll, 39.53 percent of viewers have chosen Deepthi Sunaina for eviction and is the first choice for it.
Nuthan Naidu, who has got 18.68 percent of votes, is the second choice, as per the poll results. But he has already been evicted from Bigg Boss Telugu 2 following his shoulder injury. The elimination of Deepthi Sunaina is almost finalised and she is likely to walk out of the house on Sunday.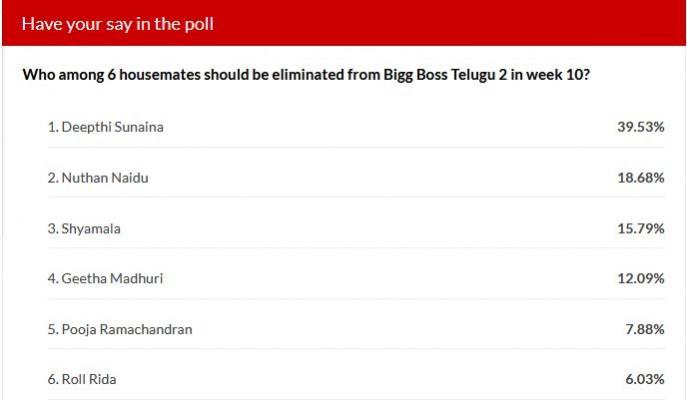 Kaushal has a huge fanbase named Kaushal Army, which has been a decisive factor in the previous eliminations. During the call centre task, Deepthi Sunaina had insulted Kaushal with some personal questions. Her personal attack had not gone down well with Kaushal Army, who have apparently given her a lot of votes for elimination. It should be seen whether she will be evicted from the Nani-hosted reality show.