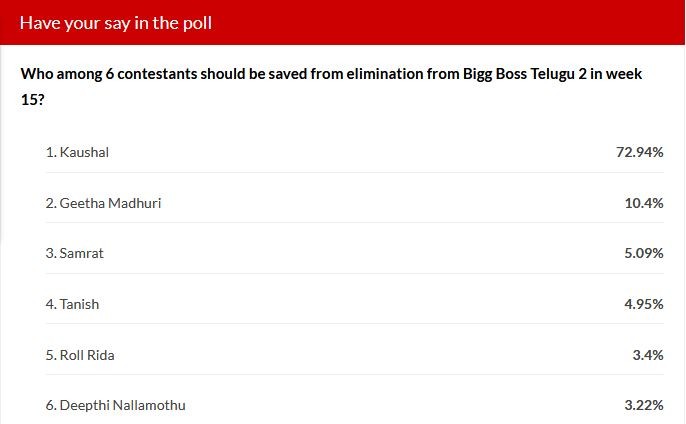 Either TV9 anchor Deepthi Nallamothu or Indian rapper and songwriter Roll Rida may be eliminated from actor Nani-hosted reality TV show Bigg Boss Telugu 2, according to the poll conducted by International Business Times, India.
With only a week away from finale, Bigg Boss Telugu 2 has six housemates -- Geetha Madhuri, Tanish, Samrat Reddy, Roll Rida, Kaushal and Deepthi Nallamothu. All of them were nominated for the elimination after they played the game recklessly. Now, all the viewers are eager to know who would make it to the list of finalists for the winner's title. Telugu Bigg Boss 2 Memes and Trolls.
Samrat Reddy gained immunity from the eliminations this week, as he won the race to finale task earlier this week. He is the first contestant to make it to the list of the finalist of Bigg Boss Telugu 2. Five other housemates are in danger zone, as Nani didn't make any one of them safe from elimination in the Saturday episode. The host will announce the name of the evicted contestant on Sunday episode.
IBTimes India held a week-long survey to find out who among the six should be saved from elimination from Bigg Boss Telugu 2. This poll has got tremendous response with thousands of viewers casting their votes to save their favourite contestants. As usual, Kaushal has topped the list with nearly 73 percent of votes for his credit. Five other housemates have received remaining 27 percent votes together.
Geetha Madhuri, Samrat Reddy and Tanish have landed in the second, third and fourth spots with 10.40, 5.09 and 4.95 percent of total votes respectively. Roll Rida and Deepthi Nallamothu have received 3.40 and 3.22 percent votes, respectively. As per the IBTimes India poll, they are in the danger zone and one of the two housemates is likely to be eliminated from the Bigg Boss Telugu 2 tonight.