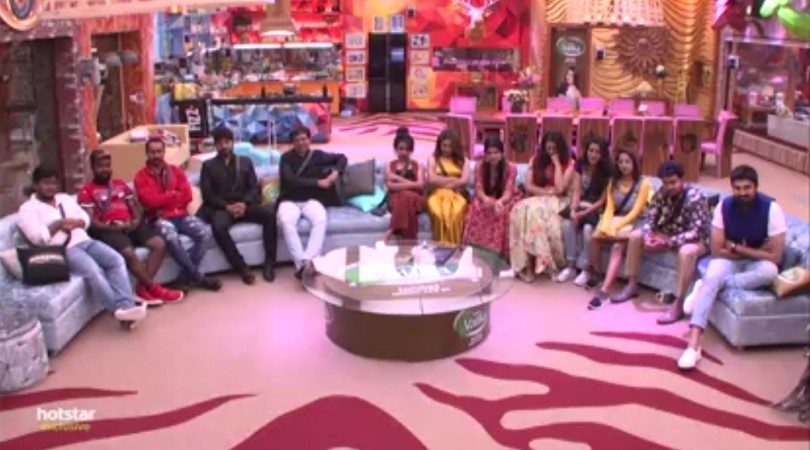 Bigg Boss held the process for the nomination of the fifth elimination in a brand new way and Deepthi, Bhanu Sree and Ganesh were nominated for the eviction this weekend.
The housemates wake up for the tunes of the song 'Hello Ekkadunnav' from the movie Hello. Nandini Rai and Kaushal are seen having a discussion. Deepthi is yet to get over the elimination of Shyamala and Geetha Madhuri is seen consoling her. In the next scene, all the housemates are gathered in the bedroom and discussing the usage of the captain's room.
All of them run to the garden area after seeing a phone booth there. Tejaswi is all excited to see the phone. At 2.00 pm, phone rings and Tejaswi picks it. Big boss says that she is nominated for picking the first call. He says that she can save herself from elimination, by making Samrat shave his beard. Samrat fulfils her wish and saves her.
At 3.00 pm, Ganesh receives the call and big boss says that he is nominated for elimination. He gives a task to save himself from eviction. He has to make Babu Gogineni eat coriander. Ganesh is saved from nomination from elimination after Babu eats coriander. Big Boss asks Ganesh to send Deepthi inside the booth.
At 5.00 pm, Big Boss gives a task to Deepthi to save herself from nomination for elimination. She has to ask Nandini to convince Kaushal to nominate himself for elimination every week till the end of the show. Nandini tries her best to convince him. But he says that he has already sacrificed his special power for her. He has entered the show to win it and he is not ready to accept her advice.
Nandini goes back to Deepthi and tells her the same. Deepthi says that it is fine. Meanwhile, she gets a call from Big Boss, who says that she has been nominated as she has failed in her task. He asks her to send in Geetha Madhuri inside the phone booth.
Geetha Madhuri receives the call from big boss, who says that she has to make Tejaswi cut 1/3 of her white blanket to save her. Geetha tells the same to Tejaswi and asks her to think twice before doing it. But Tejaswi does it without a second thought. Big boss says that she is saved from nomination and asks her to send Tanish in.
Tanish receives the call from big boss, who says that he has to make Deepthi Sunaina to cut short her hair. Tanish tells the same to Deepthi, who can't believe his words. Then he promises and says that he also likes to see her in short hair. After giving a little thinking, Deepthi goes on to cut her hair to save him. Tejaswi helps her in this task. Tanish is saved and it is the turn of Babu Gogineni.
Babu Gogineni receives the call from big boss, who says that he has to make Geetha get inked big boss logo on her body permanently. Babu tells the same to her and says that it is optional for her and he is ready to be nominated. Geetha gets it tatooed and he is saved. Now Roll Rida enters the booth.
Big boss tells Roll Rida to make Ganesh eat only fruits for a week and self nominate. Ganesh accepts the task and Roll Rida is saved from the nomination. Nandini Rai enters the booth. She has to make Bhanu Sree keep her cloth in the storeroom. The latter accepts her task and does it. Nandini is saved.
Now, it is the turn of Deepthi Sunaina, who has to make anchor Deepthi eat the food given to her. The later completes the task and saves her. Later, Amit Tiwari enters the booth and he has to make Roll Rida to cut his hair in a romantic style. Roll Rida accepts the challenge.
It is the turn of Bhanu Sree, who is asked to make Amit Tiwari remove his headgear and keep it inside storeroom and he has to sacrifice his captainship throughout this season. Initially, he accepts her requests, but when he goes out, he says that he is ready to take out his headgear, but he is sceptic about sacrificing the captaincy once for all. Hence, she is nominated for elimination from Bigg Boss Telugu 2 in the fifth week.
Then comes in Samrat, who has to make Tanish dip his leather jacket in the bucket filled with red paint. Tanish accepts his task and does it to save Samrat.