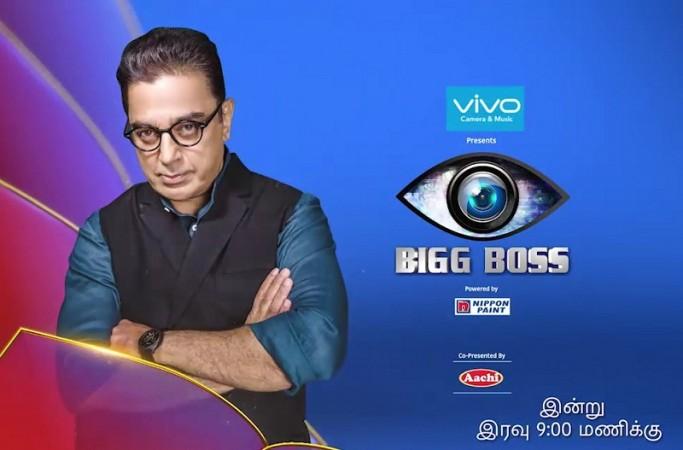 Harathi Ganesh has been eliminated from Bigg Boss Tamil. She is the fourth contestant to leave the show after Shree, Ganja Karuppu and Bharani.
The actress started her journey as one of the favourites to win the Bigg Boss Tamil trophy. She engaged herself in lots of activities and gave her best in tasks. She also entertained viewers with her antics. Unfortunately, her stay has ended midway.
Vaiyapuri, Juliana aka Julie and Oviya were also in the danger zone this week on Kamal Haasan's Bigg Boss Tamil. In the end, Harathi garnered lesser votes than others.
The audience online had wanted Harathi to leave the show. Her issues with Julie apparently did not go well with the audience and failed to get higher votes than others.
Earlier Story:

Going by the audience's response online, they want Harathi Ganesh to be shown the door from Bigg Boss Tamil. It is easily her issues with Julie which has irked them a lot.
Harathi has been having clashes with Julie from the day the show began. The former's constant verbal attacks on the latter and her strong attitude are the primary reasons that have not gone down well with the netizens.
This is turning out to be a boon for Julie, who is gaining massive sympathy from the audience for being targeted by the inmates. Oviya too has gained people's love with her genuine behaviour. Looking at the comments, it is safe to say that Oviya and Julie will not be eliminated this week.
Our prediction: Vaiyapuri to be out of Bigg Boss Tamil

Taking the netizens' viewers into consideration, Vaiyapuri is most likely to be out of Bigg Boss Tamil. Although there is no strong reason for people to dislike him, his inability to draw the people's attention with his antics in the show may fail him to get a good number of votes.
It is only after Ganja Karuppu was evicted, Vaiyapuri freed himself from all the inhibitions and actively gave his 100 percent in the tasks.
Nonetheless, one can expect a surprise as Bigg Boss is a game of unpredictable moves.