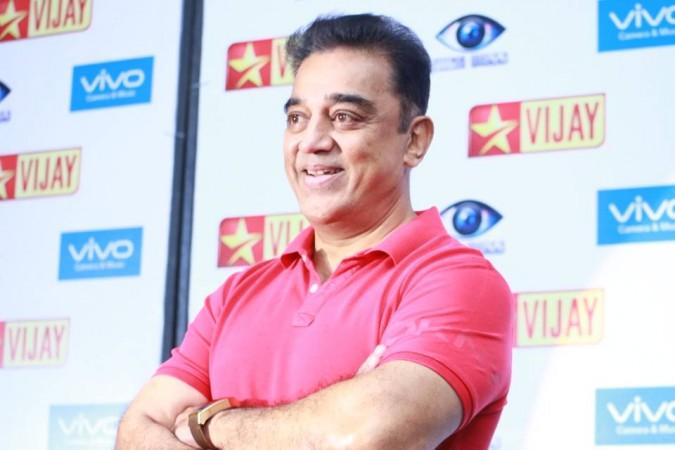 UPDATE: The National Commission for Women has taken suo moto cognizance against Kamal Haasan for using the name of the actress, who was abducted and assaulted on February 17. "NCW takes suo moto cognizance over Kamal Haasan revealing the name of Malayalam actress who was allegedly molested,says will send him notice [sic]," ANI tweeted.
Cant name her? Name her after my mother or my daughter. This war will be fought.Yehhai Mahabharath katha. Jago My lady bharath. Salaam. - Kamal Haasan tweeted.
After a case was filed against Kamal Haasan by the Hindu Makkal Katchi over the latest Bigg Boss Tamil controversy, the Ulaganayagan had an interaction with the media on Wednesday, July 12. During the press meet, when one of the reporters asked for his comment on the Kerala actress' abduction case and the arrest of a prominent actor, Kamal had "accidentally" took her name.
Read more: Kerala actress kidnap case: Why is media flouting laws and still taking her name in reports?
Also read: Kerala actress reacts after Dileep's arrest; denies real estate deals with actor
It has to be noted that according to section 228A of the Indian Penal Code, disclosing the identity of rape or assault victim is an offence. But when asked to comment on the safety of women in the film industry, Kamal said: "Why just safety of female in cinema industry alone, the safety of you if you think you are a female, in this crowd, it is important to me. I will not let anything happen to you. All of us will not allow it as it's our duty to see that you go out safely. It's not about actresses, we are not supporting [used actress' name] because she is an actress [sic]."
Also check: Dileep arrest sparks talk of looming custody battle with Manju Warrier over Meenakshi
However, when the reporter pointed out not to use the survivor's name, the versatile actor argued: "Doesn't matter. You have put the name." When the media personnel stated that it is not done in Malayalam industry, Haasan commented that he is talking to a different forum. "Why not the name? Let it come. Don't hide that name, there is nothing wrong with that. If you want to call her Draupadi, call her Draupadi, don't call her by a female. Nothing wrong with that."
Also read: Celebs comment against Dileep
Kamal's action is expected to land him in trouble as the Women's Commission in Kerala had recently filed a complaint against Malayalam actors Dileep Salim Kumar and Aju Varghese for naming or commenting bad about the actress, who was kidnapped and molested by Pulsar Suni and his gang in a moving car near Athani in Angamaly on February 17. After four months of investigation, Janapriyanayakan Dileep, who has associated with the survivor in many movies has been arrested on July 10, for his alleged involvement in the sensational case.
Watch Kamal Haasan's comment here:
Check out four controversies plaguing actor Dileep here: