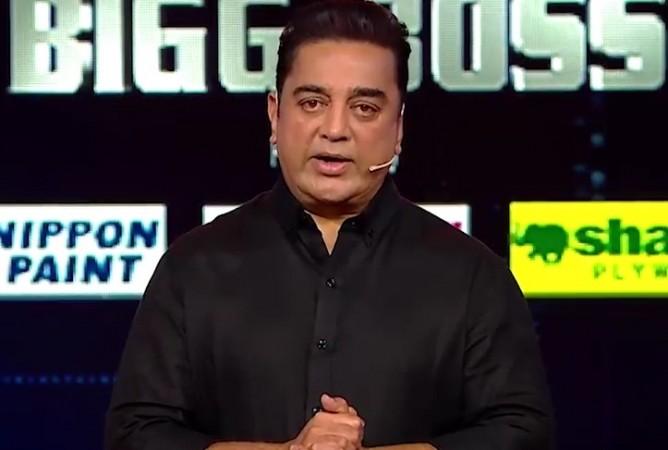 Kamal Haasan's jabs at politicians and his nuanced political comments in the Bigg Boss Tamil, being hosted by the actor, have evoked a mixed response in Tamil Nadu. Ever since the show kicked off, he has been using the stage directly and indirectly to express his concerns over the daily political developments in the southern Indian state. And the ruling AIADMK, which is reeling under internal strife, is his prime, easy target.
Kamal Haasan had never let a chance go to comment on politics in the state in the show. His first notable dig came when Namitha described her experience in the Vijay TV-show that the house was kind of a five-star hotel without news papers and new-age devices like mobile phone and laptop.
Quick came Kamal's retort, "there's also another five-star jail," an obvious reference to the VIP treatment allegedly being given to Sasikala Natarajan, former general secretary of the AIADMK, at Bengaluru's Parapana Agrahara prison.
Recently, the audience sitting inside the auditorium greeted Julie with boos and hisses when she tried to speak. Kamal Haasan came to her rescue, saying: "You should not display your anger at a young girl because she lied. It is just a game and she has not committed a crime. Shouldn't you target politicians, who have lied to you all these years?"
While this jibe was more on the nose, Kamal Haasan continued to target politicians, but in a veiled manner. "Don't waste your anger by targeting Julie or Gayathri. Vent it when the time is right," he said.
In the latest episode, Kamal Haasan strongly condemned the death of Anitha, who committed suicide after she found her dreams of becoming a doctor shattered. Being one of the toppers at the state-level exam, Anitha aspired to become a doctor. But she failed to secure good marks in the newly-introduced NEET, which was opposed by the Tamil Nadu government. In despair, she killed self, raising an outrage in the state.
Kamal Haasan took to stage to mourn the unfortunate death. "If someone asks me what the solution is — I am someone who hasn't finished school education. While I have the will to do what is necessary, do I have the skill? Let the people who have the skill let us know. I will listen, we will listen. It is because someone forgot to listen that our heads are bent today, in shame. Deepest condolences to Anitha's family," Indian Express quoted him as saying in the show.
His regular political comments on an entertainment show has met with mixed response. While his fans have praised his political innuendos, it has not gone down well with all. A section of audience have criticised him for using the platform for his political launch.
"There he goes again. @ikamalhaasan misusing a entertainment platform #BiggBossTamil for his political launch, [sic]" a person on Twitter posted. He further said, "No. Entering politics and his views on Anitha must be kept out of #BiggBossTamil . Let him start a separate campaign. Organise PC. [sic]"
However, his fans defend him by saying that he is being responsible citizen and trying to talk about the evils that haunt his state. "Why see that only as a political intention? Why not as a goodwill for the people. He's honestly trying to do whatever he can to save TN," his fan tweeted.
The actor's political taunts in the Bigg Boss Tamil have kicked off a vigorous debate between his fans and critics on social media platforms.