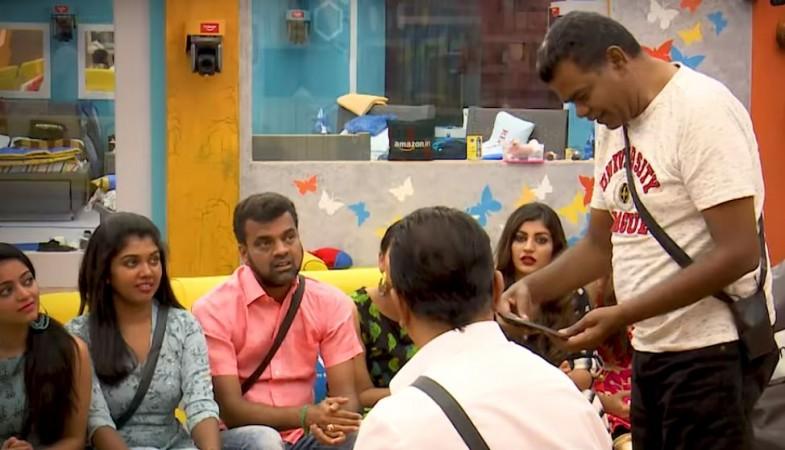 Ponnambalam's elimination from Bigg Boss Tamil 2 has met with mixed response. While some are happy to see him finally being evicted from the Vijay TV's reality show, many thank him for entertaining them and playing them game with honesty. [crawl down to see their tweets]
Ponnambalam finally ran out of luck as he is finally eliminated from Bigg Boss Tamil 2 after being nominated for the seventh consecutive week in Vijay TV's show. He is the sixth contestant to be evicted from Kamal Haasan-hosted show after Shariq Hassan, Mamathi Chari, Ananth Vaidyanathan, Ramya NSK and Nithya Balaji.
The surprising part of the process is that Kamal Haasan had entered the house and the elimination was announced his his presence. Ponnambalam was visibly happy to leave the house.
"I am honoured to be eliminated from the house in the presence of 'Thalaivar' (Kamal)," he respectfully said to the host after coming out of the house. He also apologised immediately for using "unparliamentary" words in the Bigg Boss Tamil house.
The veteran actor was shown the video clippings of the two incidents when he lost his cool. The first incident about scolding Aishwarya and the second is about locking her neck in his hands during 'Rani Maharani' task.
In fact, he called a woman to the stage to give a small demo on how he held Aishwarya in the task, while proving that it was not a deadly lock as presumed by many.
Ponnambalam also took questions from the people. One asked him why he liked Riythvika, whereas he had different feeling towards Aishwarya and Yashika for which he said, "For me, every girl inside the house was same. But I admit I quite liked her because she used to listen to whatever I used to say and it is natural that people likes such people," he claimed while revealing that the name Riythvika sounded similar to his daughter Kruthika's name.
The former stunt man ended on the note that he now he has nothing against Yashika and Aishwarya
NavinENT: Gladly #Ponnambalam evicted before is luggage locks break due to regular packing, being in eviction squad for past seven weeks continuously. #BiggBossTamil2 #BiggBossTamil

CoolBuddyKool: In life,Lot of things r not in our control.Dear #Ponnambalam ,Thanks for thoroughly entertaining us and ur valuable advices. Even though u r out from #BiggBoss2Tamil , u wil b in million of hearts forever. Thanks makkale for supporting #ponnambalamarmy #jaisriram #BiggBossTamil2

Michael Anto: Replying to @vijaytelevision @ikamalhaasan @Vivo_India
It's totally a script by vijaytv.. other states BiggBoss are much Better than TN... How #sendu saved. Does he has more fans than #Ponnambalam

Nivi06_Nila: #Ponnambalam evicted .. again this week eviction also not satisfied ponnabalam kurumpadam he has good heart that we should accept.mistakes everyone does but for his age he adjusted many things in BB. Miss him in BB. #BiggBossTamil2 #BiggBoss2Tamil
#BiggBossTamil

Shivaaa Rajesh: Hats off #ponnambalam. Great gesture from @ikamalhaasan . At this age U survived these much days with public votes and also real till date. TBH U won the hearts of public. A Villan in reel and hero in Real. #BiggBossTamil #biggboss2tamil #BiggBossTamil2

nalini ❤: #Ponnambalam officially eliminated!
Even hv some negative in ur talk and way but u made us laugh& enjoy watch few scenes of Biggboss. All the best&take care of ur health chittaps!❤

Evil Knievel: Wow #Ponnambalam gift it to #Janu baby!
He sees everythin n he knows everythin in the House just couldnt contribute more due to age n health reason coz of his Stuntmen career!
Good running Sir !
Elimination Process
Apart from Ponnamabalam, Janani Iyer and Sendrayan were in the danger zone. The online polls had indicated that Ponnamabalam was favourite to be out of Kamal Haasan's show.
In fact, the poll conducted by International Business Times had clearly shown that Ponnambalam would be evicted from Bigg Boss Tamil. And finally the actor is shown the door.
IBT Poll Result
Ponnambalam got 38.41 percent of votes. Janani Iyer ended in the second place by earning 33.65 percent of votes. It was followed by Sendrayan, who has garnered 27.94 votes.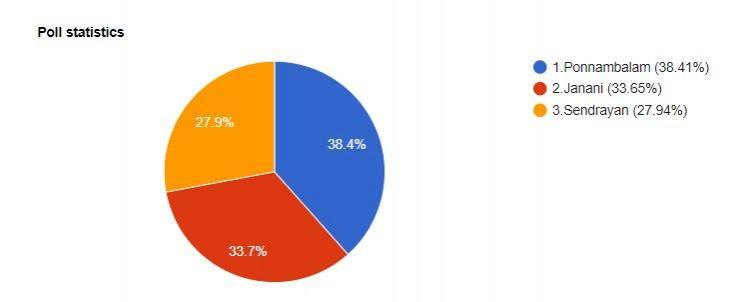 The 16 contestants who stepped into the Bigg Boss house on June 17 are Yashika Aannand, Ponnambalam, Mahat Raghavendra, Daniel Anne Pope, Vaishnavi, Janani Iyer, Ananth Vaidyanathan, Ramya NSK, Sendrayan, Riythvika, Mumtaz, Thadi Balaji, Mamathi Chari, Nithya Balaji, Shariq Hassan and Aishwarya Dutta.