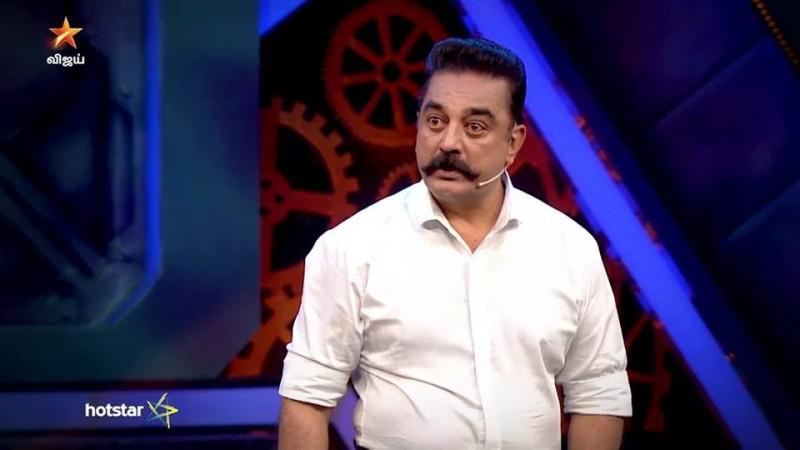 The second season of Bigg Boss Tamil has entered its eighth week and is all set for the elimination of the sixth contestant from Kamal Haasan-hosted show. This week, Janani Iyer, Ponnambalam and Sendrayan are in the danger zone. Just in: Ponnambalam eliminated from Kamal Haasan's show
Usually, Kamal Haasan announcee the name of one contestant who would be safe in the Satuday episodes, but this week there was no such announcement, probably because there are only three contestants in the danger zone.
What social media trends say?
While Ponnambalam and Sendrayan were pushed to the danger zone based on the inmates' votes, Janani was directly nominated by Yashika, who is the captain of the house this week on Bigg Boss Tamil 2.
Going by audience response, Janani has a strong chance of being safe this week, despite a section of people who dislike her for her diplomatic ways of handling issues. She also has a good fan following which is crucial for survival in a reality show like Bigg Boss.
The actress has done well in a couple of tasks and impressed the viewers. Furthermore, she is also quite an entertainer in the house. Hence, people think that she should not be evicted from Kamal Haasan's Bigg Boss Tamil.
That leaves Ponnambalam and Sendrayan in the danger zone. The former has been getting people's sympathy whenever he was targeted by Aishwarya and her gang. The actor was liked by a section of people because he represented patriarchal values.
However, his performance in a few tasks has always been under scrutiny. People on social media are commenting that it is high time for his elimination. Similarly, the viewers on social media have expressed that he has not done much to deserve his place in the Vijay TV's show. He is, however, enjoying support among the rural audience, who feel that he is an innocent man in the house.
Our prediction: The chances of elimination between Sendrayan and Ponnambalam's stands at 60 : 40 ratio.