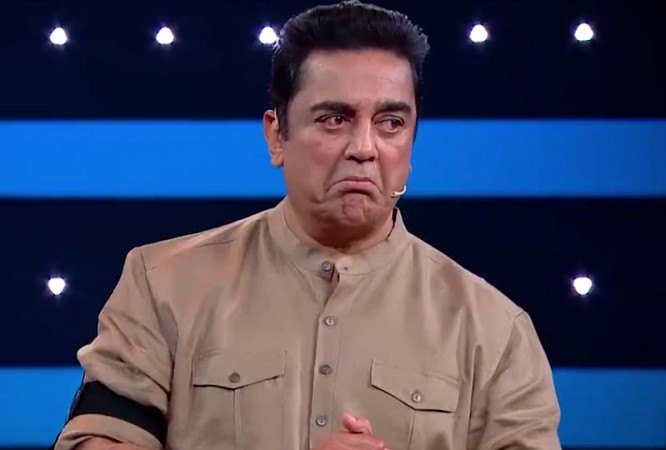 Vaiyapuri's journey in Bigg Boss Tamil has come to an end on Sunday, 17 September. The veteran actor got lesser votes than Harish, Aarav and Snehan, who were also in the danger zone.
He was the senior most actor in the house and respected by all the inmates. Vaiyapuri used entertain the viewers and the other participants with his sense of humour.
Vaiyapuri was appreciated by the audience for his honesty. At one point of time, he was desperate to live the house as he was missing his family members. However, he had made his mind that he would leave the house only after completing his 100-day journey. But the actor was not able to give his 100 percent for the physical tasks, which was one of the factors why he was apparently eliminated.
Nonetheless, Vaiyapuri showed no signs of disappointment and walked out of the show with grace. In fact, all most all the eliminated contestants were trolled by the viewers for their behaviour during the stay, but Vaiyapuri is the only one who is being shown respect by the netizens post elimination.
Snehan enter the grand finale
Snehan has become the first contestant to enter the grand finale of Bigg Boss Tamil. He earned the highest points in the multiple tasks conducted last week.
Earlier Story
Aarav was made the captain of the house directly by Bigg Boss this week. Considering his contributions and missed-out chances, he was chosen without following the usual procedures.
Generally, the leaders are elected by the inmates. The other way of selecting the captain is by rewarding the ones, who emerges victorious in tasks given by the Bigg Boss.
However, Aarav is not enjoying the benefit associated with the leadership as he is not safe from the elimination. The captains' names will not be suggested for the elimination. As he was not chosen by the inmates, the Bigg Boss decided not to save him.
As a result, Aarav, unfortunately, is in the danger zone along with Snehan, Harish Kalyan and Vaiyapuri this week.
Going by the response online, Aarav might be eliminated this week. He has not been liked by people for the way he handled Oviya during her stay. His decision to isolate and snub her are the major reasons why people want him to be out of Bigg Boss Tamil.
However, the second name that people consider eliminating is of Snehan. The netizens feel that he is not a straight-forward person, who plays double games and spreads gossips about everybody in the house.
So far, Kaajal, Shree, Raiza, Anuya, Oviya, Shakthi, Namitha, Bharani, Ganja Karuppu and Gayathi have been eliminated.