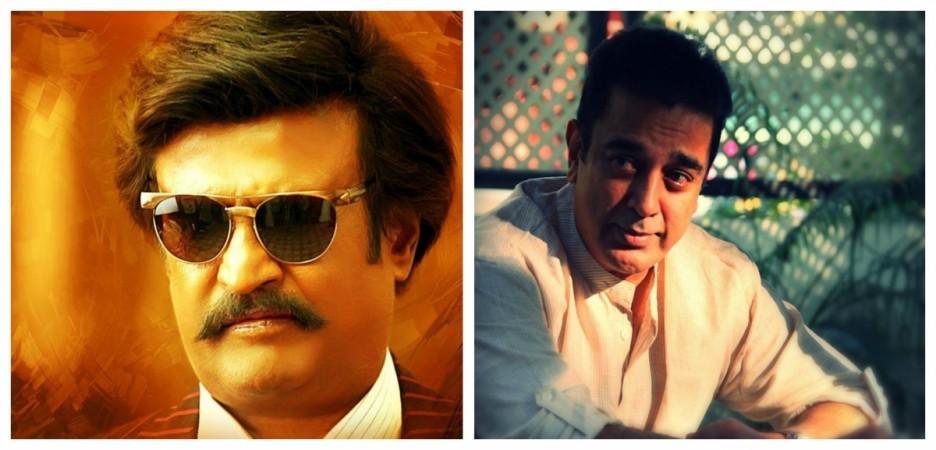 Putting an end to the debate of Rajinikanth versus Kamal Haasan in politics, the latter has clarified that he will be joining hands with the Enthiran star if he takes a plunge into politics.
At an event, Kamal Haasan stated that he will not take a call on a political entry in "haste." "There are questions as to whether I will join hands with Rajnikanth in politics. If Rajnikanth enters politics, I will join hands with him," Quint quoted him as saying.
Earlier, the actor had refused to comment on reports of Rajinikanth entering politics and claimed that even if he wants to give any advise to Rajini, he will give it personally rather than in public. The Nayagan star had also said that he would be critical of Rajini once he takes a plunge.
Kamal Haasan has been actively speaking about politics for over six months now. His prime target has been the ruling All India Anna Dravida Munnetra Kazhagam. He has attacked the party at every given opportunity; be it in his Bigg Boss show or public platforms the Universal Star has gone all out to slam the Tamil Nadu government.
In course, Kamal Haasan gave oblique references on taking a plunge into politics and a few days ago the actor stated that he was considering to float a new party rather than joining the existing parties.
"A political party is about an ideology. And I don't think my goals in politics can match the ideology of any political party," Quint had quoted Kamal Haasan as saying.
On the other hand, Rajinikanth, who had asked his fans to be ready for the "war," an indirect way of telling them to be on their toes to support his mission if ever he enters politics, is rumoured to have decided to make his decision to the public on his birthday (December 12).