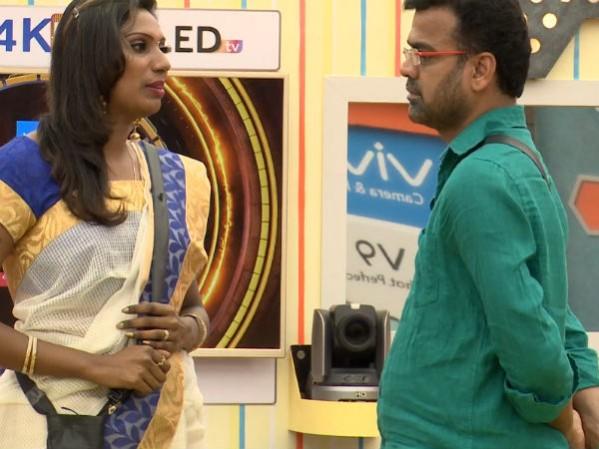 Nithya Balaji was shown the door from Bigg Boss Tamil 2 house on Sunday, July 15. Her eviction has not gone well with the fans of the Tamil reality TV show.
Apart from Nithya, Ponnambalam, her estranged husband Balaji and Yashika Aannand were in the danger zone. Looking at the response on social media, it becomes clear that people wanted Yashika to be out of Kamal Haasan's show and the eviction came as a surprise.
Although some have welcomed the eviction, citing her daughter needs her more than anybody else, Nithya had started understanding the game and getting used to it. After irritating the viewers with her fights in the first two weeks, she had shown a lot of improvement in the recent times. Hence, people wanted to stay in the house.
Further, many are of the opinion that Nithya was a lot better than the other contestants, who were in the danger zone last week. But those who understand the format well feel that the votes might have been divided among the four resulting in her elimination.
Here, find select-few comments about her elimination:
Amirthalakshmi3: Searching for #Nithya 's fb acc... can't wait to send her a long note saying how she is the first strongest contender inside house and as an individual she can do wonders without a creep like Balaji‍♀️ (okay excluding the last part but I want to say her that).
You Tamil: First two weeks #beepbalaji wanted #nithya out of the game. Notice even now he has never once said he wants her to stay? It's only @ikamalhaasan & housemates who were saying that he wants her in.
Mumtaz Army - B & B: LOL....Most of us should realize that this is a reality show and anything can happen. I'm happy that #nithya left since her daughter needs her mother to be with her and take care of her not in a reality show. Good Job by #vijaytv and we support #Bigboss and #VijayTV.
amalas francis: @ikamalhaasan I have great impression/confidence on you .but not after eviction of #Nithya.she got more vote than balaji and yashika. @vijaytelevision #BigBossTamil2 again proved irrespective of public vote ,we @vijaytelevision least you dress , more you will win .
Naseem: #Vijaytelevision knows that #Nithya very strong contestant and chance to win title. Also she is getting more fans day by day. Thats the main reasons they removed from this show #BiggBoss2 #BiggBossTamil2 #fakevijaytv #BiggBoss2Tamil.
Sunspell_TJ: #Nithya got out today! Feel so sad but at the same time happy cause her daughter probably missed both parents a lot! #BiggBoss2Tamil.
nalini: Now nothing change! #Nithya alrdy gt ppl love&supports which she want..and i think the most important for her is her Poshika instead of BB.Lifela jeyika BB mattume kadaisi vali ilai. Im sure strong woman like her will success more&may more gud doors opens for her❤
#BiggBossTamil.
Bala Az: I couldn't even think that #Nithya gets eliminated today for the past week.. we need transparency in the voting so if our favourite is lacking the required votes we would peck them more votes #FakevijayTv @ikamalhaasan.