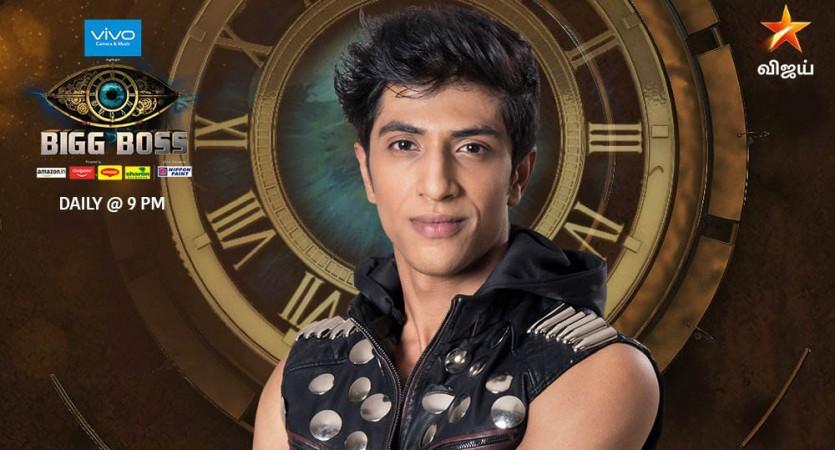 Shariq Hassan's journey in Bigg Boss Tamil 2 has come to an end on Sunday, August 5. He is the fifth contestant to be eliminated from Kamal Haasan-hosted show after Mamathi Chari, Ananth Vaidyanathan, Ramya NSK and Nithya Balaji.
Five contestants - Ponnambalam, Riythvika, Thadi Balaji, Shariq, Mumtaz and Mahat Raghavendra – were in the danger zone this week and Riythvika was announced safe on Saturday's episode (August 4) in Bigg Boss Tamil 2.
Aishwarya, Janani, Yashika, Mahat and Daniel were visibly upset with his elimination. In fact, Aishwarya and Yashika along with Mumtaz were into tears upon the announcement that he was out of the Vijay TV's show.
Interestingly, Shariq was not seemed like upset and was happy with the outcome. He recalled the good words said about a few the inmates, before going out of the show. His mother Uma Riyaz came on stage and shared her views by stating that Bigg Boss Tamil has given a good start for her son's journey in entertainment industry.
"Go far and become famous," Kamal Haasan wished the youngster before Shariq walked out of the Tamil show.
During his stay, Shariq had developed good friendship with the likes of Mahat, Aishwarya, Yashika and Daniel, but he was overshadowed by others. It gave an impression that he was not actively participating in the tasks.
However, the result has not come as a surprise as the poll conducted by the International Business Times had indicated the same.
Thousands of social media users took part in the poll and they felt that one among Shariq and Ponnambalam would be eliminated from the Kamal Haasan-hosted show this weekend. While Shariq garnered 25.33 percent votes, Ponnambalam received 25.31 percent.
Shariq failed to impress the viewers through his performance in the task. More importantly, he was identified in Yashika and Aishwarya's group, which was hated by a majority of the audience for one or the other reason.
Whereas Ponnambalam was not an entertainer nor had he impressed people with his performance in the task. However, the senior actor was liked by a section of people because he represented patriarchal values.


Thadi Balaji ended in the third place by getting 16.32 percent votes. He was followed by Mumtaz (12.76 percent), Mahat Raghavendra (11.1 percent) and Riythvika (8.99 percent) votes.
How fans reacted?
Here are selected-few tweets made by Shariq's fans, who claim that they will miss him in the show.
kay: #Shariq's last few mins in BB made me teary eyed. What a nice guy! So generous of him; He showed his love by gifting his belongings to all the HMs. Don't reme
Madness: Why does #Shariq seem so hungry 4 attention on stage wit KH?Found it silly relax ppl knw u now in TN b happy #BiggBossTamil2 #BiggBossTamil
Vaishali: Somehow for reasons unknown, #feeling bad for #Shariq for the first time!
#BigBossTamil2 #BigBoss2 #BigBoss #vijaytelevision #Vijaytv #KamalHaasan #BigBossTelugu2 #Mumtaz #jananiiyer
Sheela M.D.: NO NO NO, WHY #shariq?!? i really loved the way he played the games and handled the tasks. Really gonna miss seeing him in the house... Srsly don't have the mood to watch #BiggBoss anymore...
#BiggBossTamil2 #VivoBiggBoss
shanmu vijayakumar: #biggboss2tamil never expect #shariq will exit the show he is my favourite along with #rithvika he is capable of winning the show i don't think this is the decision of people who voted i hope he will comeback as wild card contestant
Sanp0221: V should hve been evicted last week and #Shariq put in secret room. He would hve got to know his 'friends' betterVaish s reentry was a flop not very impactful but Shariq s case would hve been different #biggbosstamil2
Shiney Miracula: #Shariq had his flaws & he luked lik he nvr understood the accusations hurled at him but then inconspicuously he evolved in2 a better person thn wat he was wen he entered the house,which matters a lot &comparatively a much sportive person than the rest of the HMs.#BiggBossTamil2