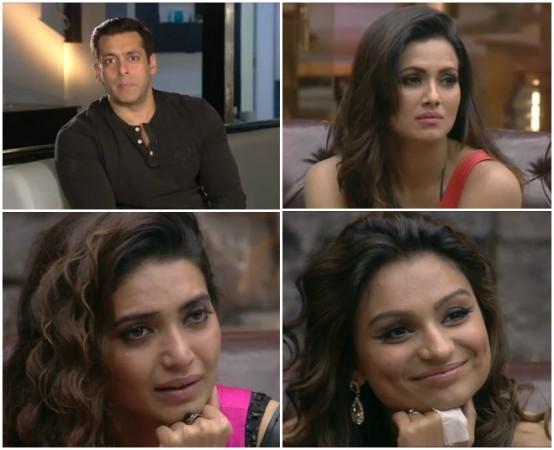 Host Salman Khan, who left the reality TV show Bigg Boss 8 with a heavy heart, sent out an emotional video message to all the champions in the house and contestants Karishma Tanna, Dimpy Mahajan and Sana Khan were in tears after listening to his words.
Here is the message of the Salman Khan:
"When I entered the house yesterday, I hugged all of you. The reason behind the hug was that my journey on Bigg Boss was upto here. Your journey has been extended for a few weeks more. My heart does not allow me to depart from you. But I have some prior commitments and I have to pursue them. I am leaving you all and the show with a heavy heart. I will try to attend the finale."
"I want all you guys play really well and make me proud. Champions you are feeling that Challengers have come with a new energy. They have come here after watching the game. But you know each other's weaknesses and plus points. You know everything about each other."
"In fact, it is really very unfair on them, but not on you. You are already set and they are on a shaky ground. Even if I am not there on the show on Saturday and Sunday, I keep watching the show. I promise that I will not miss any episode. If I feel that I should tell you something, I will find a way and reach you guys."
"Farah Khan is now on the show and I have handed over all the charges to her. She is my best friend. She is a big fan of Bigg Boss and she has lot of information about this show. I request you to listen to her words. She will host "Bigg Boss Halla Bol". You take care of her and she will take care of you all. Till then take care. Do whatever.... Now to do whatever you want. Thank you."
When he addressed the champions, he was very emotional and Karishma and Dimpy were in tears. Talking about his message Farah Khan said, "Salman was really emotional. This is the first time that I have seen him speaking so emotionally."
"It is really sad that he is not able to complete the show. Along with him, all of us were in tears when he left the set yesterday. For me, Bigg Boss is not Bigg Boss without Salman. Salman! We miss you and comeback as early as possible," she added.
Here is the complete video of 105th episode of Bigg Boss 8 and you can see Salman Khan's message at 00:46:49. Click here to watch the episode and his video message.