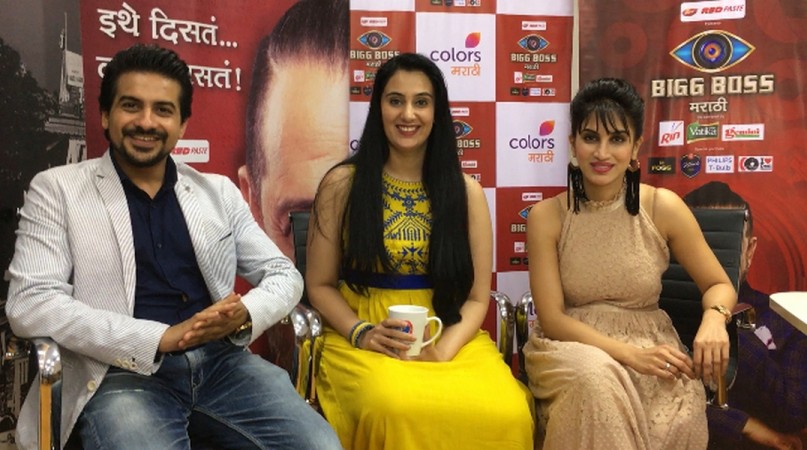 Bigg Boss Marathi Season 1 is over and the buzz has begun about the Hindi Bigg Boss 12 will begin soon. But fans of the show in Maharashtra are still talking about the first season of Bigg Boss Marathi, which is being aired on repeat on Colors as an abridged version these days.
International Business Times, India had presented an exclusive video interview of Bigg Boss Marathi winner Megha Dhade, and now we share an exclusive chat in English with the Bigg Boss Marathi 1 finalists Pushkar Jog, Sai Lokur and Smita Gondkar. All three contestants share their experience of being on Bigg Boss Marathi and how it has made them better human beings, and also clear the air about certain misconceptions about them, especially the alleged relationship of Pushkar Jog and Sai Lokur. Smita Gondkar also speaks about her beautiful friendship inside the house with Bigg Boss Marathi 1 winner Megha Dhade.
Here are excerpts from a candid chat on video with Bigg Boss Marathi 1 finalists Pushkar Jog, Sai Lokur and Smita Gondkar:
IBTimes: Hi Pushkar, Sai and Smita. Congratulations on being the finalists on the first season of Bigg Boss Marathi. Can you tell us what you learnt from staying at the Bigg Boss house?
Pushkar Jog: Oh my god! A lot of patience, calmness, and a lot of (learning) things that I never did in my life. I'd never cooked in my life and (after being in the house) I know how to cook now! I washed utensils, washed my clothes, toilet cleaning and all that! It was amazing...a very enriching experience but at the same time very difficult, to stay with...not strangers but your colleagues, 18 of them, not knowing their nature, how they would react or behave. We were trying to know each other for the first two weeks. It was not an easy journey. Bigg Boss has taught us a lot. Calmness, patience and, of course, valuing your family more and valuing people more. It has been a rollercoaster ride for all of us.
Sai Lokur: Yes, nakkich (definitely). Rollercoaster is the right word because every day was a new experience. The journey has been amazing. It's taught us a lot of things. We've become very patient and calm and the way we react to situations is very different now. I think we've come out of Bigg Boss as better human beings.
Smita Gondkar: I've always been very patient. So the way I went inside the show, I've been the same in the show and the same since I've come out of the Bigg Boss Marathi house. What I've learnt is to speak in Marathi. Because I spoke very different Marathi in the initial bit of the show, because my thinking language is English. So obviously, when I had to come up with new vocabulary in Marathi all of a sudden I would get a little... We had these really great Marathi-speaking people out there who would try to correct you and stuff and you would go into a shell thinking, 'OMG! This is too much of Marathi and maybe I'm going really wrong somewhere'. I got into a shell initially but later I learnt to speak in Marathi.
I also got more confident cooking while on Bigg Boss, and of course, I got to know about some of my weaknesses and work on them. I went in with a lot of patience so there are some other things I picked up on the show.
IBTimes: Can we talk about friendship on Bigg Boss Marathi? For example, Pushkar and Sai, your 'friendship' was much talked about. Have you retained it? We can see you have retained it outside the house.
Pushkar Jog: Yes, of course. You choose your friends, they are not your blood relatives. So, I chose mine (Sai Lokur) because she supported me all throughout the 100 days. It was difficult to stay in a house where things don't go your way every time. You have to find your comfort zone, find someone you can talk to and share your feelings with, things about your family. Yes, she (Sai) has been a great friend and support. People have spoken about it. There's a thin line between what people are speaking and I just wanna clear things.
Y'know, because only we know what we've been through inside the Bigg Boss house, the audience or the media doesn't know, because we have lived those 100 days, 24x7. So, we know what we're sharing and what purity it is to have a friend like her. I respect it and I say this on record that please stop disrespecting and abusing a pure friendship. It's really not done that people talk about it in a different way. It's cliche. It's amazing to have a friend like her who knows you in and out. If it wasn't for her, I would've definitely been out of the house a bit earlier.
IBTimes: But Pushkar, when you won the Ticket to Finale, were you confident that you will win the show?
Pushkar Jog: Honestly, I had never thought that I would last a 100 days, because I'm not made like that. Like Smita and me, we are not like that (made for Bigg Boss), we're very different. I never thought I'll make it to the finale of Bigg Boss Marathi. But after the second week, when people starting accepting me, they started voting for me and they saved me when I was nominated, from there on I never thought I will be nominated until the finale. Yes, I thought I could win the show if people go by their heart. But it's fine, it's a game. Somebody has to win and somebody has to lose. As a sportsman, I take it in my stride.
IBTimes: Each one of you, can you say one line about Megha Dhade who has gone on to win Bigg Boss Marathi Season 1?
Pushkar Jog: Heartiest congratulations to the winner. She has been amazing and I am very proud of her. ALSO READ: Exclusive: Bigg Boss Marathi winner Megha Dhade on her 3 most memorable moments inside the house.
Sai Lokur: I think Megha has played wonderfully well. She is tailormade for this format. She was perfect for the Bigg Boss house. She had everything required to win and to play this game. Whatever strategies she has used, and played with her mind...
IBTimes: But when we interviewed her, Megha Dhade said she did not have any strategy in mind while playing Bigg Boss.
Sai Lokur: Tee bolaichi goshta aahe (She's just saying...). You can obviously see her journey has been really good. She has used her brain and also her heart. We always had this discussion in the Bigg Boss house that tee khup abhyaas karoon aali aahe (she has studied the Bigg Boss format before coming inside the house). She knew all the tasks before we knew them and how to play it, so her study obviously helped her.
IBTimes: She knew the tasks??
Sai Lokur: As in, she had seen all the seasons (of Bigg Boss Hindi). She had an idea of what kind of tasks come and what is expected from those tasks since she had seen all the 11 seasons of Bigg Boss Hindi. It's obviously come out as an advantage...and I give complete credit to her. She completely deserved to win. Congratulations, Megha!
Smita Gondkar: I had a very beautiful relationship with Megha on the show, in spite of us being in different groups altogether. We were silently there for each other. I still miss her morning hugs! I would be dancing and she would come to join me. Somewhere during this entire journey, I don't know how this nice relationship with Megha bloomed and I'm really happy that she won. She really deserves it because from day one, she knew that's what she wanted. I'm really glad she won. I miss her already!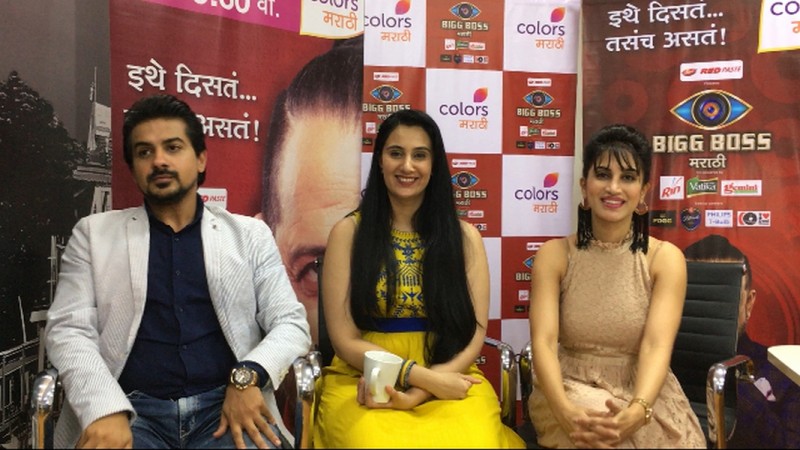 IBTimes: So, what happens when you come out of the Bigg Boss house? Say, if you've had clashes with someone, do you come out of the house and forgive and forget?
Smita Gondkar: Even inside initially, while we were doing the tasks, we would fight, and the fight would get carried forward after the task. But after a point, we happened to have a maturity over the situation, saying that this is for the task and we cannot drag this fight for later. At the end of the day, you're just playing the task. Everybody's here to compete. You cannot take things personally.
So, we would fight it out in the task and once the task was over, we would check on each other to see if the other was okay. We were there for each other.
Over a period of time you realise that you're so connected that we were crying when we saw tears in each other's eyes, when somebody else's parents were coming in. That's the day we realised we all were so connected and our relationship changed and bloomed. Even when I'm talking about it I'm feeling emotional.
Today when we are out, and we've not seen the Bigg Boss episodes yet, we feel whatever has happened was during the tasks and for the game. And mostly, for each one it is a person reacting to a particular situation inside the house. That doesn't mean the person is bad. It's just that in those particular circumstances the person has reacted that way. No contestant was a devil, everybody has a niceness to them.
Sai Lokur: We had to react in a certain way or do something for the tasks which went against each other, as Smita said. We have come out of the house but we have brought with us only the happy memories and whatever negative vibes were there, we've left it in the house.
Smita Gondkar: I think that's the maturity of being in this show. And if somebody hasn't done that, if somebody has a grudge, I feel sorry and sad for them because they would be the ones suffering mentally and emotionally.
IBTimes: Signing off, would you like to say anything to your fans?
Sai Lokur: We would like to just thank them because we have reached the finale only due to their support. They have voted for us and shown us a lot of love. Just keep the love coming! I am because of all of you, so, keep loving me (shares a flying kiss) - I love you.
Smita Gondkar: I would like to especially thank not only my family but each and every contestant's family, because when we were inside Bigg Boss, we had no clue what they were getting trolled about for or what was happening to them. I thank all the families of the 18 contestants for being there, for standing tall, for fighting it out with the trollers. And of course, thanks to all our fans and our friends for supporting us. Thank you to each and every person who has spent their valuable time voting for us!
Pushkar Jog: Ditto. I would like to express my gratitude to the family members, as Smita says because while we were in the house, even they were missing us. So, thank you to the family, my wife, my baby (daughter), my mother. And of course, the fans. As Sai said, we are because of YOU. You gave us so much love. Please continue the love and we will continue to entertain you. I love you all.
With loads of flying kisses, the three Bigg Boss Marathi finalists Pushkar Jog, Sai Lokur and Smita Gondkar bid fans goodbye.