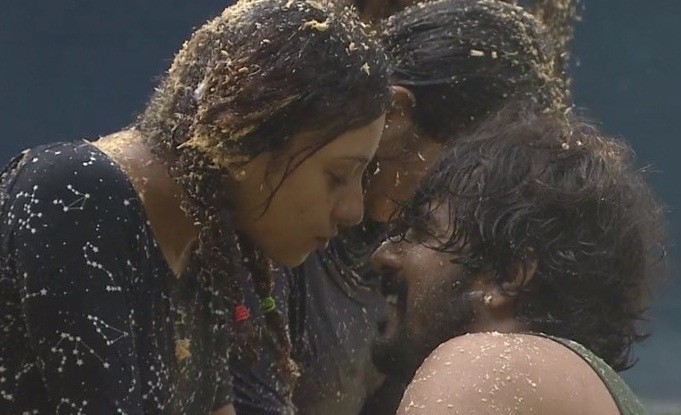 In the initial moments of the Bigg Boss Malayalam September 19 episode, all the housemates started dancing with joy in an incredible manner.
Pearle Maaney and Srinish also shook their hips with finesse after sorting out their issues. Later, Archana Suseelan started crying stating that she misses her husband. To console Archana, Suresh started singing, but his efforts went in vain.
After some time, Aristo Suresh taught some wrestling techniques to the housemates. Interestingly, after learning many tricks from him, housemates started beating Suresh. Later, Bigg Boss announced the luxury task of the day. The game authorities asked the housemates to split into two teams.
Contestants in each team were asked to sit on a bench and the opposition team should try various techniques to make them stand up. Bigg Boss announced that teams can make use of shaving foam and eggs to make the opposite side stand up from the bench.
Archana, Suresh and Srinish initially sat on the bench. Shiyas, Sabumon and Pearle Maaney tried their best to make them stand up. It was Aristo Suresh who initially failed in the task. The application of wood powder and water irritated Suresh, and he stood up from the bench. In the meantime, Bigg Boss asked Aditi to sit in the bench as she took a biased stand even after being the captain of the house.
Srinish and Aditi failed in the task soon, but Archana Suseelan successfully sat on the bench until the bell rang.
Shiyas, Pearle and Sabu later sat on the bench. During the task, Sabu injured his eye, and he went out to consult a doctor. To make Pearle stand up, Srinish tried to kiss her, but she tactically avoided him. Pearle and Shiyas successfully sat on the bench for the given time frame, and Bigg Boss declared them as the winners. In the night, Pearle taught romantic dance steps to Srinish.