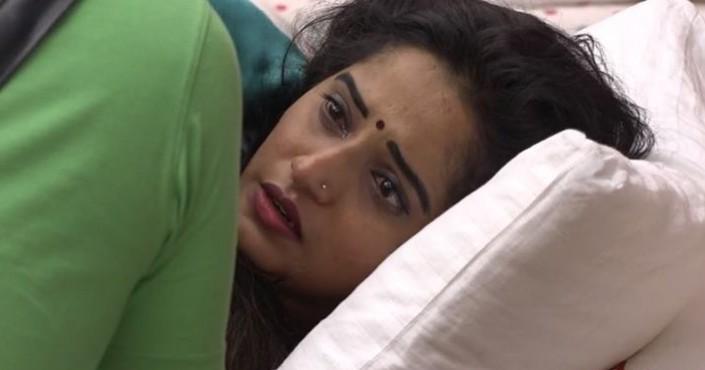 The September 05 episode of Bigg Boss Malayalam was special due to a weird act from Shiyas. After quarreling with Shiyas, Aditi covered her face in a blanket and tried to sleep in the bed. Shiyas and Aditi shared a private moment. Seeing this, an irked Hima Shankar warned Shiyas against such inappropriate behaviour.
In the initial moments of the Bigg Boss Malayalam episode, housemates were busy taking of plants. Archana watered the plants carefully, while Suresh and Sabu gave her various tips. Later, Sabumon told Suresh and Basheer that Hima is a pseudo-feminist. As per Sabumon, Bigg Boss house is not a place where a feminist can show her attitude and alleged that Hima is doing all the gimmicks to capture camera attention.
Soon, Bigg Boss announced the task of the day. The primary aim of the task was to prepare and eat as many dosas as possible within a given time frame. Sabumon prepared dosas, and the rest of the participants started eating. However, housemates failed in this task, as two Dosas were remaining when the final whistle blew.
In the meantime, Pearle Maaney engaged in a fight with Shiyas stating that he teased Srinish. Hearing Pearle's allegations, Shiyas called up Srinish, and made it clear that he never teased him. The words of Pearle made Shiyas angry, and he did not join Aditi while washing the plates. Later, Shiyas voluntarily went to the kitchen and started washing the plates. However, while washing the plates, he was murmuring, and it irked Aditi. Aditi informed Shiyas to go out of the kitchen if he is not interested in doing the chores.
Aditi soon went to the bedroom and started crying. Even though Srinish and Pearle tried to console her, she continued crying. It was at this time that Shiyas entered the scene.
As Hima started interfering in the problem between Shiyas and Aditi, Pearle asked her to refrain from talking in others' issue. However, Hima asked Pearle not to intervene in her decisions. Hima also alleged that Pearle is a fake person who used to act inside the Bigg Boss Malayalam house. Pearle said that Hima is trying to become the Boss of the house.
In the night, Srinish hid under a table to surprise Pearle Maaney. However, she found him.