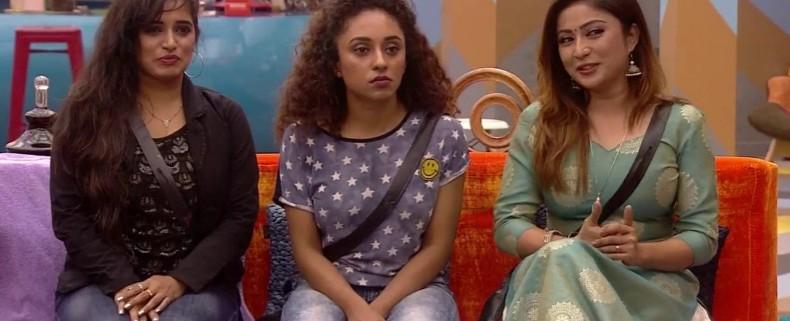 10.20 pm: Bigg Boss announces the list of nominees and Srinish, Pearle Maaney, Sabumon Abdusamad, Archana Suseelan, Basheer and Suresh are nominated for elimination from Bigg Boss Malayalam.
10.17 pm: Suresh nominates Sabumon and Archana stating that both of them are strong contestants who may affect his journey in the future. Bigg Boss now asks Aditi to nominate two people for eviction directly. Aditi nominates Basheer and Suresh.
10.14 pm: Srinish names Sabumon and Archana Suseelan. Pearle nominates Sabumon and Archana Suseelan. The Nayika Nayakan anchor revealed that Archana is a woman with hyper activity. Sabumon names Srinish stating that he is a publicity seeker. Sabu alleged that Srinish has intentionally created a love track to win the Bigg Boss title. Later, he nominates Pearle.
10.12 pm: Shiyas nominates Sabumon and Archana Suseelan. He reveals that Archana used to gossip in the house. Archana Suseelan nominates Srinish. She revealed that Srinish always tries to isolate himself. Later, she nominates Pearle Maaney.
10.10 pm: Basheer initially nominated Pearle Maaney. As per Basheer, Pearle Maaney is a fake personality who acts inside the house. The Cochin based model later nominates Srinish. Basheer alleges that Srinish has already forgotten his friends due to a romantic affair.
10.05 pm: The nomination process begins. Bigg Boss asks contestants to pick two housemates who do not deserve a place in the grand finale. The nomination process should be carried out by piercing a knife in the flex board of the contestants.
9.57 pm: Contestants now performs physical exercises. Pearle sings for them to make the exercise session interesting. Srinish pulls house captain Aditi to the swimming pool.
9.55 pm: The housemates are now in the kitchen, and they are busy preparing food. As everybody are working, Srinish and Pearle hug secretly in the bay area near the bathroom.
9.49 pm: All the contestants now gather in the garden and starts talking. While in the kitchen, Sabumon and Archana Suseelan starts dancing. Suresh sings a song for them. Both Sabu and Archana portrays funny steps,and all the housemates encourage their attempt. Contestants now performs physical exercises. Pearle sings for them to make the exercise session interesting.
9.45 pm: Suresh starts singing. The time is now 7.30 PM. Basheer says that Archana has become beautiful. Archana applies facial cream on Sabumon's face. Suresh and Basheer starts teasing Sabumon. Aditi now shares her orphanage experience. Suresh emphatically listens Aditi's touching story.
9.40 pm: The nomination episode of Bigg Boss Malayalam begins. Initially, Pearle Maaney sings a prayer song along with other contestants. Aditi Rai now creates different teams to do various tasks. As usual Pearle and Srinish starts talking in the night. Srinish hugs Pearle for sometime, and later, both of them starts sleeping. The next day morning, Srinish teaches gymnasium lessons to Pearle Maaney. Srinish demands fees, and Pearle kisses on his cheek.
The elimination of Hima Shankar from the Bigg Boss Malayalam house has seemingly not affected any of the housemates, and during the final moments of the yesterday's episode, all the contestants were engaging in their daily tasks as usual.
After coming back to the house from the edges of elimination, Aditi Rai kissed Shiyas, and many social media users are speculating that a romance is grooming between the two. In today's episode, housemates will nominate the contestants whom they do not find fit for the grand finale.
In all probabilities, Shiyas will nominate Sabumon Abdusamad today. The duo engaged in a heated word of war last week, and as a result, the aspiring model will not have any hesitations to name Sabu for this week's elimination. Sabumon, on the other hand, may play a clever game and he is likely to nominate strong players like Pearle Maaney or Archana.
Basheer will most probably nominate Pearle Maaney and Shiyas as he has a grudge towards both of them. Other nominations from the housemates seem unpredictable, as the remaining contestants share a good rapport with each other.
In the meantime, a section of social media users is urging Bigg Boss to eliminate contestants like Basheer and Srinish from the house. As per these viewers, Srinish and Basheer are less active during tasks, and both of them even failed to perform as the captain of the house.
We will update the live happenings starting at 9.30 PM. Stay tuned...