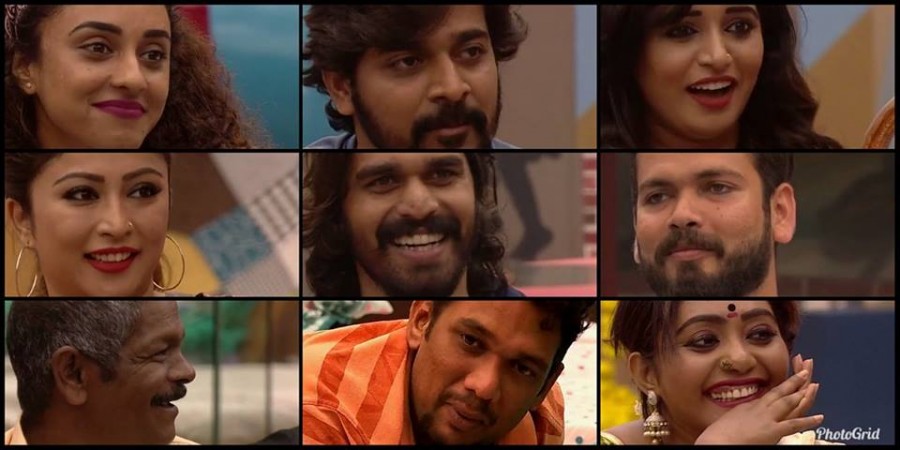 Hima Shankar, Aditi Rai, Shiyas Kareem and Archana Suseelan were nominated for elimination from Bigg Boss Malayalam. Mohanlal will send one of them out of the house this weekend.
Here are the live updates on the nomination for Bigg Boss Malayalam elimination:
10.10 pm: Hima revealed that she has happily accepted the nomination. Srinish and Pearle hug. The serial actor tried his best to save Pearle. The nomination process is complete. Hima, Aditi, Shiyas and Archana are currently named in the nomination process. Shiyas starts crying....Aditi and Pearle try to console him.
10.05 pm: As expected Srinish tries to protect Pearle Maaney. Shockingly, Srinish lifts Pearle and walks around the house to save her. Sabumon now targets Shiyas.
10.00 pm: Bigg Boss starts the nomination process. It has been revealed that the nominations will be finalized by playing a game. Bigg Boss reveals that contestant's body will be tied with balloons. If the balloons burst, that contestant will be nominated. Srinish, being the captain has the privilege to save a single contestant's balloon.
09.50 pm: The time is now 1.45 AM. Pearle and Srinish are talking in one corner, and in another room, Shiyas talks with Aditi. It seems the problems between Srinish and Pearle are over, and they hug deeply.
09.47: Pearle quarrels with Srinish after he talked with Aditi. Srinish tries to console Pearle, but his efforts went in vain.
09.45: Shiyas asks Sabumon on how to distinguish between mimicry and mono act. Sabumon explains the differences between these two art forms. Shiyas now imitates the iconic character 'Remo' from Vikram's movie 'Anniyan'.
09.42: Hima soon joins Pearle and Shiyas. The social activist argues that she does not wish to stay inside the house. "I am ready to go out from the house in this week's eviction. I do not have any problem," says Hima. Hima revealed that she really loves Sabumon, but made it clear that she will never talk to him again.
09.40: Archana and Hima engage in a verbal war. Hima takes a strong stand and says that Archana is behaving differently when the nomination day nears.
09.38: Archana Suseelan tells Hima that she is such a person who takes a straightforward decision. The serial actress revealed that the nomination process should not be taken personally. Hima blames Archana for playing dirty play inside the house.
Following Anoop Chandran's elimination from the house on Sunday, contestants in Bigg Boss Malayalam are now all set for a fresh beginning this week. The nomination process for this week will happen today and contestants will name the housemates who will face the elimination this weekend.
Basheer Bashi is one of the most likely contestants to be named in the nomination list this week. The aspiring model from Kochi had a bad week as captain. He failed to coordinate with the housemates well and he found time to continuously fight with Pearle Maaney, one of the strongest contenders in the house.
It should be also noted that Srinish is the captain of the house this week. In all probabilities, Bigg Boss will give Srinish the privilege to directly nominate a contestant to the elimination list. If it happens, Srinish will most likely nominate Basheer, as he shares a romantic relationship with Pearle Maaney.
Aditi and Sabumon are the other two housemates who may face elimination this week. Sabumon had recently quarrelled with Anoop Chandran and it might have irked Basheer. While nominating contestants, Basheer will most likely take the names of Sabumon and Pearle Maaney.
Shiyas, who was in the nomination list last week, may be spared this time. However, votes of Basheer and Archana will be crucial as both of them are not in a good relationship with Shiyas.
We will publish live nomination updates on this space starting at 9:30 PM. Stay tuned.