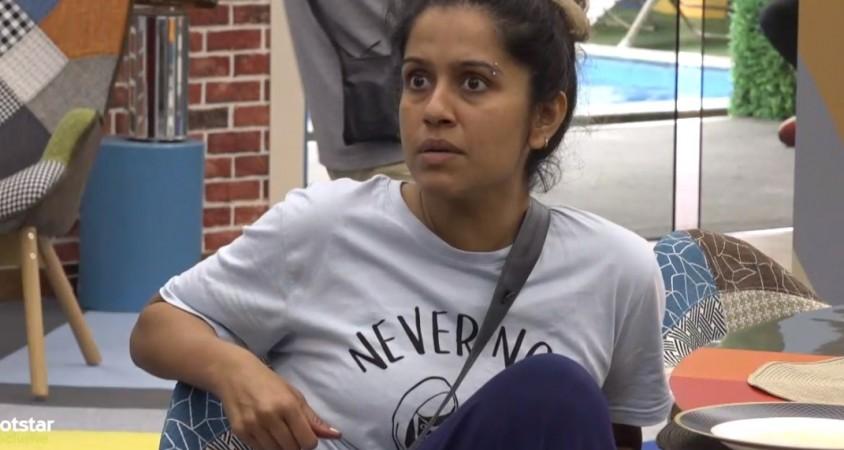 Bigg Boss Malayalam fans were all left in shock last Sunday, after host Mohanlal, announced that Ranjini Haridas was evicted from the show. Upon hearing Mohanlal's announcement, an unflinching Ranjini left the house with a smile on her face.
While on the floor, Ranjini told Mohanlal that it was just a game that she played for 60 days, and made it clear that she played it well without any regrets. A section of Bigg Boss fans on social media platforms have started claiming that Ranjini might soon make a re-entry into the house.
Ranjini exited the house for undergoing root canal treatment?
A few weeks back, Malayalam filmstar Mukesh had entered the Bigg Boss Malayalam house to investigate a crime. In that episode, Ranjini Haridas fell down and broke her teeth. A day after that, Ranjini went outside to the hospital and wore tooth cap to hide the broken teeth.
A section of Bigg Boss viewers believes that Ranjini is now eliminated from the house upon her request to undergo a root canal treatment.
While talking to Mohanlal after the elimination, Ranjini Haridas told that she needs to undergo dental treatment very urgently. In Facebook groups like 'Bigg Boss Malayalam Fans', Ranjini Haridas fans argued that the Star Singer anchor will be back in the house with full fury as a wild card entrant in the coming weeks.
It should be noted that Hima Shankar who was initially eliminated from the show made a comeback to the house recently. After her re-entry, Hima Shankar started behaving in a very cunning manner, and audiences alleged that she learned all the tricks to survive in the house by watching the episodes of Bigg Boss.
Elimination nominees this week
Yesterday, contestants named three nominees for this week's elimination. The nominated contestants include Pearle Maaney, Shiyas Kareem, and Anoop Chandran. Pearle Maaney's recent tiffs with most of the housemates have negatively impacted her during the nomination process, while it was the poor leadership qualities of Anoop Chandran that went against him.