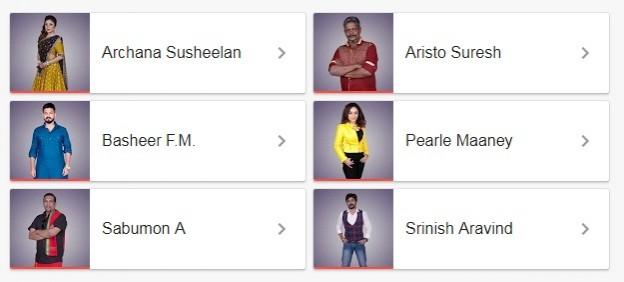 In the September 10 episode of Bigg Boss Malayalam, housemates nominated six contestants for this week's elimination. The nominated housemates for this week are Srinish, Pearle Maaney, Sabumon Abdusamad, Archana Suseelan, Basheer and Suresh. Interestingly, all the contestants except Basheer Bashi are considered strong contenders who are expected to reach the grand finale with ease.
As per the latest social media trends, Basheer Bashi is one of the most likely contestants to get eliminated this week. The aspiring model from Cochin has been underperforming over the past few weeks and it may negatively impact him during the audience poll.
Srinish is another likely contestant who may feel the heat this week. The serial actor, known for his introvert attitude, only seems to be interested to talk with Pearle Maaney in the house. He was also a total failure as the captain of the house. When heated verbal wars were going on in the house, Srinish was seen romancing Pearle Maaney, and did not even try to solve the issues which persist between the Bigg Boss family members.
Pearle Maaney, Sabumon Abdusamad and Archana Suseelan may stay safe in this week's elimination as and they have a huge fan following on social media platforms like Facebook. In Facebook groups like 'Bigg Boss Malayalam Fans', Pearle army has already started campaigning for the starlet.
Bigg Boss viewers can vote for their favourite contestants using Google and SMS. In Google, users should type 'Bigg Boss Malayalam Voting', and the search engine will populate various results. Users should click the first link and cast their votes. A single user has the privilege to cast 50 votes, and this can be either given to one housemate or can be divided to multiple contestants.
To vote using SMS, Bigg Boss Malayalam audiences should type BB Contestant's Name and should send it to 57827.