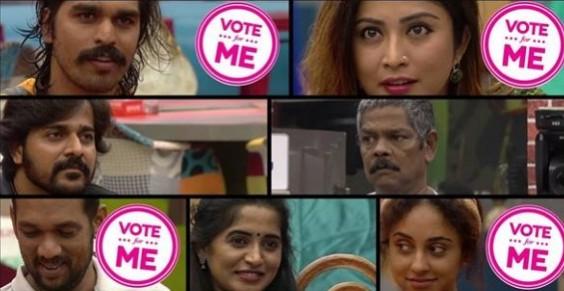 10.37: Mohanlal now asks the nominees to stand up. He reveals that the elimination will be announced only on the Sunday's episode.
10.32: Mohanlal enters the floor after a small break. He congratulates Suresh, Aditi and Srinish for entering the grand finale. Suresh now shares his happiness of entering the final. The Action Hero Biju thanks the viewers for helping him enter the finale.
10.26: Suresh says Mohanlal is like a rose flower.
10.20: Srinish says that green color is very much suitable to Shiyas. Shiyas reveals that yellow is a color which is very much suited to Sabumon. He says 'Yellow Yellow Dirty Fellow.'
10.18: Mohanlal now asks housemates to participate in a color task. Sabumon says Archana is red and added that she is a very dangerous woman. Suresh says blue color can be given to Pearle as she is like a sky. After hearing Suresh's comments, Pearle looks at him in a very weird manner.
10.11: Mohanlal asks Pearle why she talked rudely to Srinish. The Superstar reveals that these tiffs are common in love.
10.01: Srinish confesses that he behaved rudely to Pearle for unwanted reasons. As Aditi confesses, Suresh hugs her with utmost love.
09.59: Mohanlal now asks Shiyas to confess in front of Suresh. Shiyas says Suresh that he behaved rudely to Suresh last week. Shiyas also apologizes for his action.
09.53: Mohanlal congratulates the women's team for becoming the winners of the task. He asked Suresh why his hands are shivering while doing tasks.
09.43: The team of females won the task. Shiyas lauds Pearle Maaney, Aditi Rai and Archana Suseelan for their efforts.
09.40: Housemates now engages in nut balancing task.
09.33: Shiyas once again finds it difficult to read Malayalam. However, he completes reading the task instructions after facing much hassles.
09.32: Contestants reveal that Shiyas is the captain of the house, and he will control the game today.
09.31: Bigg Boss asks Sabumon to come to the confession room. A letter in the confession room details about the task which the contestants are going to play.
09.29: Mohanlal revealed that this task will test the housemates' intellectual ability, concentration, unity and cleverness.
09.19: Upon Mohanlal's request Suresh sings a song. Mohanlal asks Archana to tell something. The 'Drishyam' star now reveals that he is going to give a new task for the housemates which test their concentration.
09.15: Sabumon now reveals his experience while taking part in the task. He revealed that eye injuries like this will happen only in war zones.
09.11: Suresh now shares his experiences learning Kalaripayattu. Mohanlal tells Shiyas that he is the one who gets angry all the time. The Superstar asks Shiyas to watch the episodes completely after getting out of the house to understand his anger quotient.
09.10: Suresh now talks about his issue with Sabumon. Suresh informs Mohanlal that it was Sabumon's act which irked him a lot.
09.09: Archana now informs Mohanlal that she misses her husband a lot. The Superstar asked Pearle when she is going to cry again.
09.07: Mohanlal asked the housemates why they did not convey gratitude after a movie was screened in the Bigg Boss house. Suresh revealed that he conveyed the gratitude, but Mohanlal revealed that nobody thanked him for the movie screening.
09.05: Mohanlal now starts his routine philosophical tasks. The Superstar reveals that patience and genuineness of the contestants have played a crucial role in helping them to reach the penultimate week of the Bigg Boss Malayalam first edition.
09.00: The show started. Mohanlal enters the floor in stunning style. Wearing a blue kurta, he looks much stylish than never before. He now recollects the previous eliminations which happened in the Bigg Boss Malayalam house.
The wait is finally over, and Mohanlal, the host of Bigg Boss Malayalam, will finally reveal the name of the evicted contestant today or tomorrow.
On Monday, contestants named four housemates for this week's elimination -- Shiyas, Archana Suseelan, Pearle Maaney, and Sabumon Abdusamad. It should be noted that this will be the last elimination in this edition of Bigg Boss Malayalam, and housemates who reach the safe zone today will directly qualify for the grand finale.
As per the latest trends, Archana Suseelan is the most likely contestant who will be evicted from the house this weekend. International Business Times, India poll also suggests that Archana Suseelan will be evicted from the house. Despite her active participation in daily tasks, more than 86 percent of our readers argue that Archana should be eliminated from the house.
A section of social media users in Facebook groups like 'Bigg Boss Malayalam Fans' believes that Mohanlal will do multiple eliminations this week. If it happens, either Sabumon Abdusamad or Shiyas will go out of the house with Archana Suseelan.
Pearle Maaney is the most likely contestant who will reach the safe zone with ease this week. The 'Nayika Nayakan' anchor has an unimaginable fan following on social media platforms, and this key factor is expected to help her in this week's elimination.
We will post the live updates of Bigg Boss Malayalam in this space starting at 9 PM. Stay tuned.