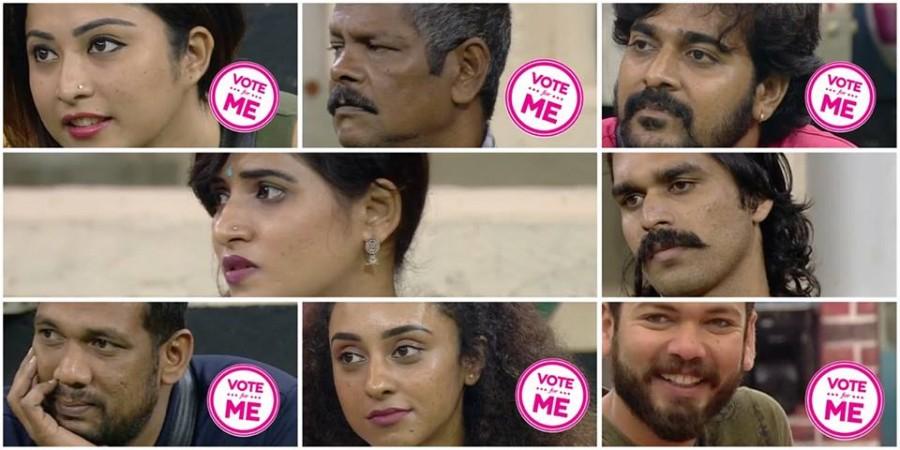 10.34: Mohanlal says the name of the evicted nominee will be revealed tomorrow.
10.20: Mohanlal now asks Aditi about her issues with Sabumon. The Superstar asks why Aditi has made such serious allegations against Sabumon Abdusamad. Mohanlal requested Aditi to take things in a game spirit.
10.15: Sabumon and Aditi win the task. Mohanlal now asks Shiyas about his experience as the king of the house. Shiyas reveals that he enjoyed a lot during the task, and made it clear that he appointed Sabumon as the minister just to reduce the threats from others.
09.50: Mohanlal now gives a task to the Bigg Boss contestants.
09.46: Srinish says that he has learned to live without smartphones after he started living in the Bigg Boss Malayalam house. Suresh and Sabumon too revealed that they changed a lot after living in the Bigg Boss house.
09.39: Srinish says that his wife should take her of his parents well. He added that his better half should have the capability to adjust as per situations. Pearle says that her husband should be very simple. She reveals that Srinish is a man of simplicity. Pearle once again added that Srinish is such a nice person whom she loves very much.
09.35: When Mohanlal asks Shiyas about his marriage, the model reveals that he will tie the knot only after the age of 32. Shiyas also added that his wife should love his mother and should be a good girl inside the house.
09.34: Mohanlal asks the nicknames of Sabumon. Housemates reveal various names of Sabumon which includes 'Tharikida', 'Intellectual King' and 'Google'. Mohanlal says that Sabumon has a new name 'Google'.
09.21: Mohanlal now asks Sabumon regarding his future plans after going out of the house. The Superstar asks Sabumon whether he is going to take medical insurance in the near future.
09.16: Mohanlal asks why Sabumon is stop smoking. Sabumon says that he is trying his best to stop the habit.
09.12: Mohanlal asks why Pearle is clapping very slowly. Pearle reveals that she is an expert in doing slow claps. Mohanlal now lauds Sabumon stating that he has lost weight after coming to Bigg Boss.
09.05: Mohanlal enters the floor. He now starts talking with the housemates. He asks the housemates whether they are sad that they are leaving the house.
Housemates in Bigg Boss Malayalam have nominated six contestants for elimination this week--Srinish, Pearle Maaney, Sabumon Abdusamad, Archana Suseelan, Basheer Bashi and Aristo Suresh. Host Mohanlal is expected to announce the name of the evicted contestant either today or tomorrow. As Bigg Boss Malayalam grand finale is just two weeks away, audiences believe that Mohanlal will announce multiple eliminations this week.
Out of the six contestants who are there in the list of nomination, Basheer Bashi is the most likely contestant who will be eliminated from the house. IB Times poll also reveals that Basheer Bashi will face the heat during this week's nomination. More than 94 percent of our readers argue that Basheer should go out from the house this week.
In all probabilities, Pearle Maaney, Sabumon Abdusamad and Srinish will easily reach the safe zone this week. All these three housemates have a decent fan following on social media platforms, and it could easily help them to reach the finale without any hassles.
Even though Archana Suseelan and Suresh are two strong contestants, their fan support in online spaces is pretty low. If Mohanlal decides to do multiple nominations this week, then either Archana Suseelan or Suresh will go out of the house along with Basheer Bashi.
We will publish the live updates on this space starting at 09.00 PM. Stay tuned.