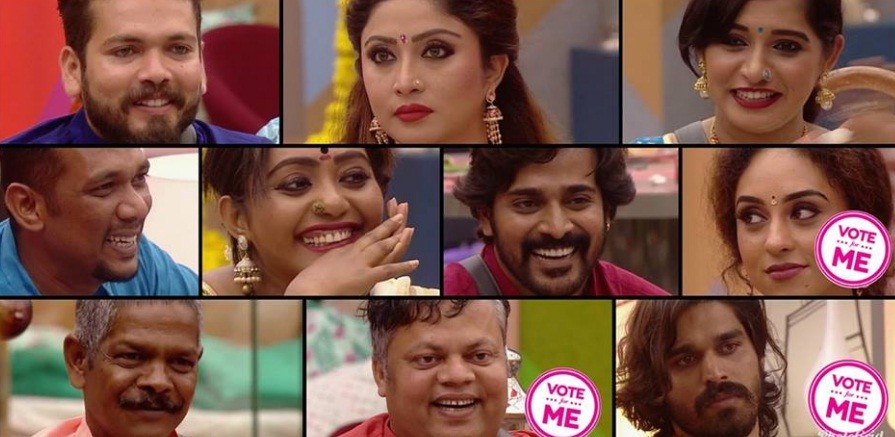 10.13: Mohanlal asks Pearle and Srinish to think more before taking the marriage decision. Mohanlal asks the contestants whether Srinish is a scapegoat. Most of the contestants said yes to this question. Mohanlal asked whether Aditi is the most selfish contestant in the house. Two people said Yes, while others said No. Lalettan takes another break.
10.05: Mohanlal is back on the floor. He congratulates everyone for participating in the concentration task with good sportsman spirit. Mohanlal also awards 1000 points to the contestants.
09.57: Aditi too completes the balancing task with ease. Archana Suseelan now balances two balls, and slowly reaches the finishing line. Mohanlal takes a break.
09.52: Mohanlal says that there is a big game going on in the house to check the concentration of housemates. The task is to balance a ball in a glass lid, and the contestant should walk along with the tyres. Anoop Chandran completed the first round with ease, and the next task was given to Suresh. Suresh was asked to balance two balls at a time. Suresh faces huge trouble while balancing the ball.
09.35: Srinish informs Mohanlal that he used to advise Pearle when things go wrong. He also added that Pearle is an unflinching person who takes everything in a spirit. Sabumon says that Shiyas is Srinish's young brother in law.
09.34: Mohanlal asks Aditi about character assassination. Aditi revealed that she used to take only good things from people.
09.29: The Superstar is back on the floor. Mohanlal again reminds the audiences that big games are being played inside the Bigg Boss Malayalam house. Hima says that she has always tried to avoid quarrels with fellow housemates especially Aristo Suresh. The stage actress alleged that all the housemates inside the house are very judgmental.
09.23: Mohanlal asks Basheer to clarify misunderstanding now and then to avoid problems with housemates. The Superstar now takes a break.
09: 18: Mohanlal asked Hima what are her issues? Hima reveals that she has understood some real faces inside the house. Mohanlal now turns to Pearle Maaney. The Superstar asks whether Pearle is playing a planned game inside the house. Pearle said that she is playing the game as circumstances demand. Pearle alleged that Basheer is trying to interfere in her personal life.
09.16: Hima Shankar told that her life was going in a different direction until the day she entered the Bigg Boss Malayalam house. Mohanlal asked how her life has changed, and Hima blabbers without giving a credible explanation.
09.14: Aditi tells Mohanlal that she is receiving so much love while being inside the Bigg Boss Malayalam house. Srinish told Mohanlal that he wishes to stay inside the house for hundred days. The serial actor also revealed that he is so much happy while inside the house. Srinish added that he is happy to have Pearle with him while inside the house.
09.11: Mohanlal informs contestants that this phase of Bigg Boss Malayalam is very crucial. Anoop Chandran raises his hand stating that he wants to go home. Mohanlal asks everyone to play well in the upcoming thirty days.
09.07: Mohanlal now starts talking to the contestants in the Bigg Boss house. Mohanlal tells Shiyas that his life is going to be very tough in the coming days. Basheer revealed that he was a very good captain. As per Basheer, contestants did not cooperate with him, and that was the reason behind some issues which happened last week.
09.04: The camera now pans into the house. In the smoking zone, Basheer Bashi, Suresh and Sabumon Abdusamad are seen talking about the issues inside the house. Sabumon Abdusamad now starts preparing Chapathi, and in the meantime, Anoop Chandran talks about his philosophical outlook on life. Anoop told Sabu that he is very much aware that his name will be included in the list of nominees last week.
09.01: Asianet now shows the recap of last week's episode which includes the clashes between Hima and Sabu, Pearle and Basheer, Anoop Chandran and Archana Suseelan etc.
09.00: Mohanlal enters the floor. He reveals that there is no scripting in Bigg Boss Malayalam, and adds that time and tide waits for no one. The Superstar also starts talking about the floods which hit the state recently. Mohanlal makes it clear that different people react differently to the situation.
Shiyas Kareem, Anoop Chandran, and Pearle Maaney are facing elimination in Bigg Boss Malayalam this week. Mohanlal, the host of Bigg Boss Malayalam is expected to announce the name of the evicted contestant today or tomorrow. As per IB Times poll, Anoop Chandran is the most probable contestant who will be eliminated from the house today. It should be noted that all the elimination predictions of IB Times until this week were correct, and we expect the same to happen this week too.
Anoop Chandran's recent clashes with contestants including Archana and Sabumon might have negatively impacted his chances in the elimination process. Many users in Facebook groups like 'Bigg Boss Malayalam fans' have already labeled Anoop Chandran as a crooked personality who is ready to play any dirty game to survive in the house.
Pearle Maaney will most likely enter the safe zone on today's episode. The television anchor has a huge fan following on social media platforms, and it has directly reflected in Pearle's votes too. Shiyas is also one of the most lovable contestants in the Bigg Boss Malayalam house, and he will also find his spot safe in this weekend.
We will update the live happenings in Bigg Boss on this space starting from 09.00 PM. Stay tuned.