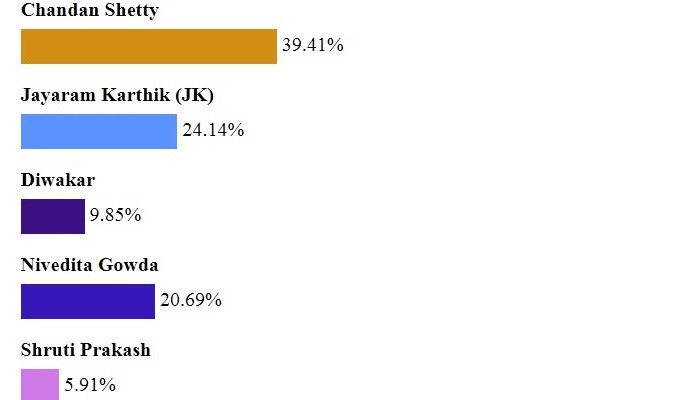 Chandan Shetty, JK aka Jayaram Karthik, Shruti Prakash, Nivedita Gowda and Diwakar are in the last stage of Bigg Boss Kannada 5. Who will be the winner of Kiccha Sudeep's show this season? We may have the answer.
Chandan Shetty is the winner and Diwakar ends in second place
International Business Times, India, had conducted an online pollto understand the audience's pulse, and if we have to go by the netizens' response, Chandan Shetty will win the fifth season of Bigg Boss Kannada.
Chandan Shetty garnered 39.41 percent of the vote share to be the hot favourite to win Bigg Boss Kannada 5. JK has come in a distant second by cornering 24.14 percent of the votes.
There was a competition for the second place between Jayaram Karthik and Nivedita Gowda, who ended up in the third place by garnering 20.69 percent of the votes. She was followed by Diwakar (9.85 percent) and Shruti Prakash (5.91 percent).
Given the netizens' response, it should be a cakewalk for Chandan Shetty.
It has to be noted that our polls in the previous season had predicted that Pratham would emerge victorious, and it turned out to be true.
For now, the result of the current season hangs in balance as supporters of the finalists scramble to get their votes in with the channel.
The reality show has been won by Vijay Raghavendra, Akul Balaji, Shruti and Pratham in the previous four seasons.
Meanwhile, the shooting for the grand finale of Bigg Boss Kannada 5 started late at night on Friday, January 26. It will be shot in two segments in order to maintain secrecy over the winner. It will be aired on Colors Super on Saturday and Sunday at 7 pm.