Geetha Bhat is evicted from Bigg Boss Kannada season 8 on Sunday, 21 March. She is the third contestant to be shown the door after Dhanushree and Nirmala Chenappa from Kiccha Sudeep-hosted show.
Nominated Contestants
In the third week, Bro Gowda aka Shamanth Gowda, Vishwa Haveri, Prashanth Sambargi, KP Arvind, Raghu Gowda, Divya S, Nidhi Subbaiah, Divya Urduga and Geetha Bhat were nominated. On Saturday's episode, KP Arvind, Divya Suresh, Nidhi Subbaiah and Prashanth Sambargi were announced safe.
Divya Urduga, Raghu Gowda and Shamanth Gowda were announced safe in order in Sunday's episode. In the end, it boiled down to Geetha Bhat and Vishwa. Finally, the former was evicted.
Geetha Bhat was quite a popular face compared to the other nominees. She had a decent fan following. Unfortunately, it failed to translate into votes.
Geetha with Sudeep
"I will miss the house. I will miss the contestants. No matter what negative comments they have said about me, I will accept it. I will miss them. I also miss the Bigg Boss voice and you of course," she told the host, Sudeep.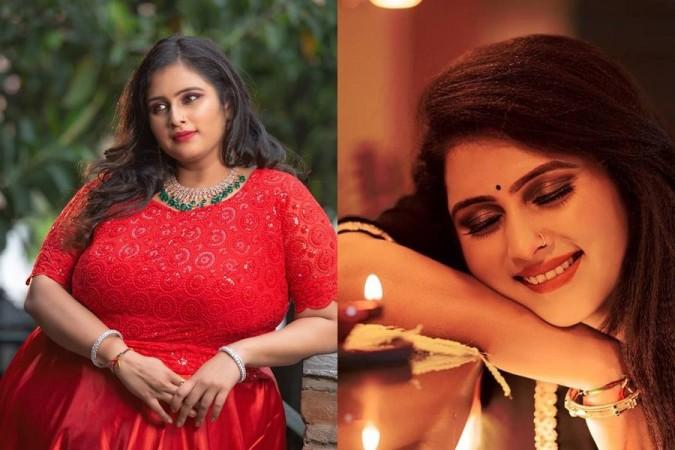 When Sudeep asked who would be eliminated from the show next week, she took Shamanth Gowda's name if he fails to use this opportunity. The inmates were expecting him to be out of the show, but to everyone's surprise, he turned safe.
Geetha Bhat also said that she is expecting Lag Manju, Arvind KP and Divya Suresh to enter the finale with Manju being the favourite to lift the Bigg Boss trophy.
After much delay due to Covid-19, the eighth season of Bigg Boss Kannada took off on 28 February. Aravind KP, Lag Manju, Divya Urduga, Bro Gowda aka Shamanth Gowda, Dhanushree, Raghu Gowda aka Vine Store, Vaishnavi Gowda, Prashanth Sambargi, Vishwanath Haveri, Chandrakala Mohan, Nidhi Subbaiah, Divya Suresh, Nirmala Chennapa, Rajeev and Geetha Bharathi Bhat entered the show in the first week.