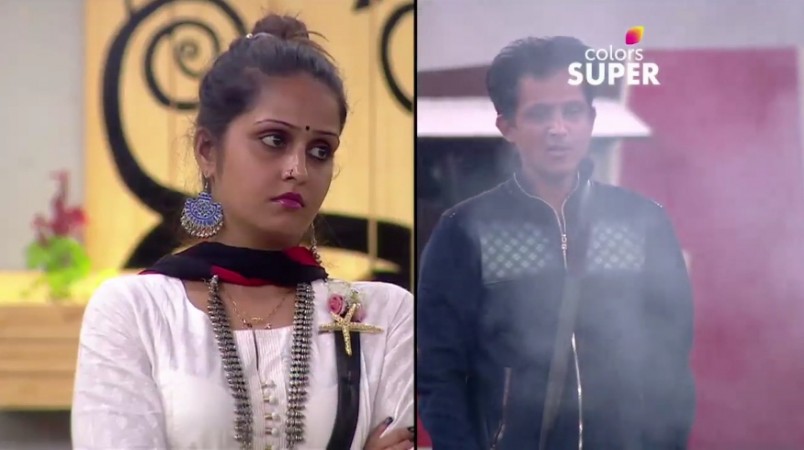 The division between celebrities and commoners continues to grow in Big Boss 11. It became evident on the episode aired on Monday, November 13, after the celebs openly discussed about commoners forming their separate team.
Captain Selection
Bigg Boss came up with a different kind of idea to elect the leader of the house for this week. Like the passing-the-ball game, the inmates were asked to be part of the passing-the-gift. Captain Riaz, who will be sitting in the confession room, would be giving the instruction to the Bigg Boss to play and stop the song.
The person who will have the gift in his hands when the music stops will be out of the game. Chandan Shetty and Nivedita Gowda entered the last stage, but in the end, the former emerged victorious to become the captain of the house this week.
However, the celebrities were apparently upset after Chandan turned captain as they suspect it to be a fixed game and they claimed that Riaz might not have played a fair game to keep celebs out of power. After taking up captaincy, Chandan divided the members into two teams – cooking and cleaning.
Sihi Kahi Chandru is the chief cook and Ashita, Jagan, Anupama, Krishi and Shruti are in his department, while Riaz, JK, Sameer Acharya, Diwakar, Jayasreenivasan and Nivedita will look after the cleaning department.
Nomination process
Riaz rubbed the celebrities the wrong way for his style of the captaincy last week. Hence, he got the maximum votes for elimination. Also, Jayaram Karthik, who got the special power from Tejaswini Prakash before she left the house, was asked to cast two votes in addition to normal voting and he took the names of Riaz and Diwakar for elimination.
Whereas the commoners took the names of Jagannath, Krishi and others celebrities. Riaz, Ashita, Sihi Kahi Chandru, Jagannath, Nivedita Gowda, Diwakar and Krishi were pushed to the danger zone.
Bigg Boss asked Chandan to save one person among the seven nominees and he suggested Riaz stating that there is a possibility of his elimination this week. Hence, he wants to save him.
Later, the commoners were seen having interaction in the garden area, while the celebrities were gossiping about the celebs vs commoners division. Riaz was blamed for the current situation.