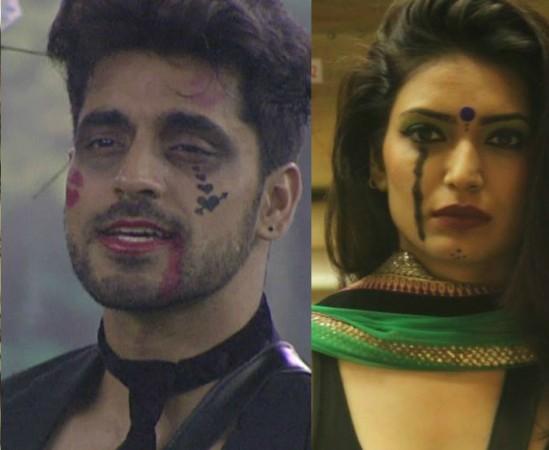 Revealing the voting trend, "Bigg Boss Live News" wrote on Twitter that Gautam Gulati and Karishma Tanna are leading with maximum votes, while Pritam Singh is lagging behind.
The patience level of every "Bigg Boss 8" contestant has been tested far too many times on the show and it's not surprising to see them lose their cool on the slightest of provocations.
Gautam Gulati and Pritam Singh's friendship probably ended after the former, in a fit of rage, asked him not to address him as "veer" (brother). The RJ later told Ali Quli Mirza that once he snaps ties with someone, he never tries to fix them.
In other news, Pritam's outrage towards Gautam was not supported by the viewers; they started making up their own theories about the fall-out. Here are some tweets:
Ann Thomas: pritam & ali r jealous & insecure of gautam..esp pritam bcas he knows gautam is his only obstacle towards win in BB8...
McBoogerBalls: pritam pyaare, the spineless !! gautam ka support gaya toh phatak se ali ka le liya. kabhi ko khud khade ho lo pyaare
KaJenholic Drashti: Ali is the one trying to put Pritam against Gautam... I see your level of cheapness
#Gautam2win: Wtf should #gautam give respect to #aqm & #pritam 2 biggest gamers and crass ppl! Bloody lukhas n #bb8 non deserving ppl @BiggBoss chal hatt
Dr. ME MYSELF: Pritam can't Stand Gautam 's popularity anymore.
While teammates were taking turns to protect the rungs given to them for the ladder task, Ali tried cracking another deal with Karishma Tanna. Failing to convince the Champions, he began with his super-annoying antics.
Unfortunately, after spending a sleepless night in an attempt to complete the job at hand, Bigg Boss discontinued the task announcing that since none of the teams won the task, the Rs 25 lakh prize money cannot go to any of them.
However, in a surprise mid-week eviction Sambhavna Seth was eliminated from the house. This eviction reveals the show's top 5 finalists: Gautam, Karishma, Pritam, Ali and Dimpy Mahajan. It seems like the race to win the coveted title is only between GG and KT.
Meanwhile, "Bigg Boss Live News" - Twitter account known for breaking "BB8" stories - also requested its followers to vote their favourite contestants without depending on the popularity of a particular housemate.
#BB8 #BiggBossHallaBol Xclusive : Gautam Gulati & Karishma Tanna are front runners in race of Bigg Boss 8 title. Pritam is down in votes !

— BIGGBOSSLiveNews (@BiggBoss8Latest) January 29, 2015

#BB8 #BiggBossHallaBol BB8 team won't enclose the Voting Trend very soon now,so we will update the trend ONCE a day Hope u will understand

— BIGGBOSSLiveNews (@BiggBoss8Latest) January 28, 2015

#BB8 #BiggBossHallaBol Note : Keep voting for your favourite as you never know what will happen when. Don't Go for Popularity Thanks ! — BIGGBOSSLiveNews (@BiggBoss8Latest) January 28, 2015