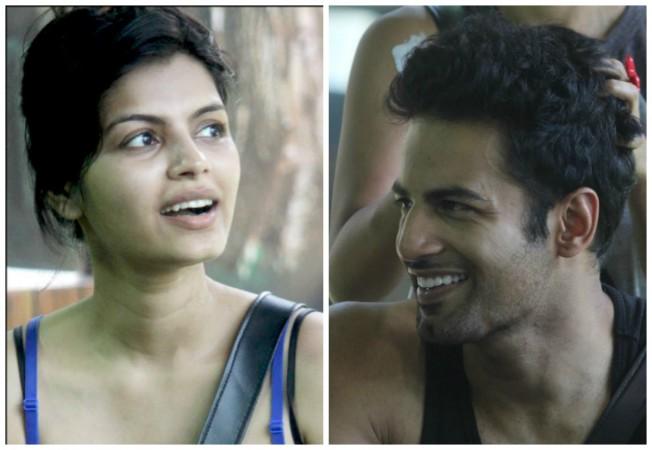 Things aren't working in the favour of contestant Sonali Raut inside the "Bigg Boss 8". The "Xpose" actress, who is one of the nominated contestants this week, on Thursday said that she is being targeted by housemates, including Gautam Gulati.
Although Sonali is in house now, she was the first contestant to get evicted from the show. She made a dramatic entry in the house after her eviction and managed to be in limelight with her flirtatious nature.
But all these didn't go well with viewers who believe that Sonali should be evicted this week. Viewers are also disappointed with her carefree and laid-back attitude in the house.
They also said that since she has chosen Upen over Gautam she will be evicted this week. Show host Salman Khan pointed out saying that Upen is unlucky for other contestants and whoever gets close to him has to leave the house.
Till now seven contestants are eliminated from the house and out of them six contestants, including Minissha Lamba, Sukriti Kandpal, Sushant Divgikar, Aarya Babbar, Soni Singh and Natasa Stankovic were very close to Upen.
With Sonali getting close to Upen, viewers believe that she will leave the house this week. Well, the voting result will decide as to who will leave the house and whether Upen is actually a "panauti" (bad luck).
But here are a few tweets from viewers who say that they want Sonali out of the house.
This Saturday #SonaliRaut is going...Thank god! So fedup for her laid bck cheap attitude...good for nothing for #BiggBoss8 #BB8

— Låđķi (@sheetalsethi) November 17, 2014
Its sure shot good bye for Sonali this weekend. She has bcome waste of space in @BiggBoss #BB8 — Diva Likes (@Diva_Likes) November 21, 2014
Sonali should evict this week.She is extreme arrogant & has no decency @BiggBoss @SonaliRaut6 @ColorsTV We r not appreciating this bitch

— #BiggBoss8 (@iBiggBoss_Fan) November 21, 2014
Sonali is very reluctant about the game/tasks/captaincy... Everything about #BiggBoss8. She should just leave now. #BB8 #GoGautam #BiggBoss — Starry Soul (@Salt_n_peppper) November 21, 2014
Dis weekend it will b proved by #Sonali's eviction that whoever is close to #Upen gets eviction,now it's turn of #SonaliRaut #BB8 @BiggBoss

— Pujendra (@pujendra89) November 20, 2014
arya,sushi,suku in sab ko bahr fekne k bad manhus u-pen is now gettin closer to shona li ..i fear for her eviction now :( #BB8 #BiggBoss8 — aakib sayyad (@A_for_Aakib) November 19, 2014
I want to see #Upen, #Sonali and #Karishma out side from the house. Sab se pehle Sonali and Tharki Upen ko nikalo. #BiggBoss

— Rahul Raz (@RahulrazFilmy) November 18, 2014
I feel sonali is most likely to get evicted dis week Becoz Others hav capabilities to create dramas n fights @BiggBoss #BB8 — ⭐Minu⭐ (@M_P_20) November 21, 2014
@BiggBoss @SonaliRaut6 bad news for sonali fans sona evicted tonight :(

— Manjeet Dahiya (@ManjeetDahiya20) November 21, 2014