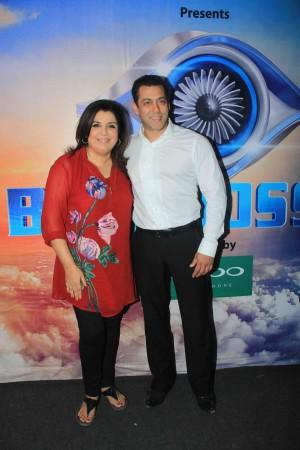 Contrary to what was reported, Salman Khan will not host the "Bigg Boss Halla Bol" Grand Finale owing to his packed schedule.
"He will be extremely busy with the shoot of Bajrangi Bhaijaan. So chances of him hosting the finale with Farah look impossible as of now," Bollywood Life quoted an insider as saying.
It was a heart-breaking moment for every Salman fan when he announced on a special audio-visual recording how his "BB8" journey had come to an end and since he had already given his dates to some of his directors, he wouldn't be able to continue with the controversial TV show.
Enter Farah Khan, who did appear a bit on-edge in her maiden episode, but picked up pace in her second and third ones. Calling Salman the ultimate host, the "Happy New Year" director reportedly said she would never ape the superstar and instead add her unique style to the show.
Salman's emotional video, in which he asked the contestants to be nice and gentle to the new host, adding that he would always try to reach out to the housemates if he thinks they need his advice, was heart-warming. He also said how his busy schedule was the only reason why he had to leave the show and that he would try and come back if possible.
However, there were reports of him taking a break to look after his health and home production, which triggered the speculation that the star might return for the Grand Finale. While on the show, he was exceedingly entertaining and was loved by every housemate.
Unfortunately, there was this one time when he lost his cool walking out of the set after Karishma Tanna began crying over a statement he made in jest. Calling her unsporting, the "Kick" star opined that she should take every comment in her stride and learn to move on.