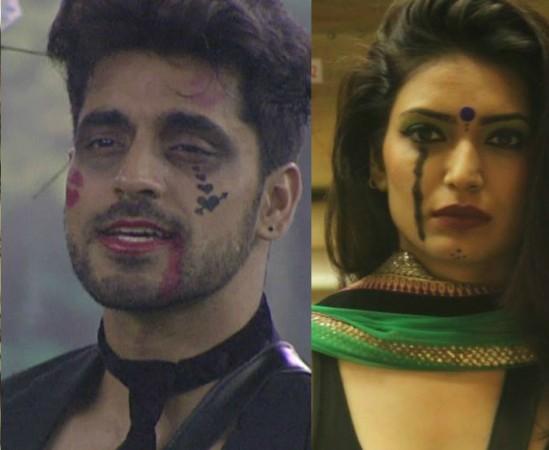 "Bigg Boss 8" episode 43 took an interesting turn when Bigg Boss asked 10 questions to contestants Gautam Gulati and Karishma Tanna.
For the task, Gautam and Karishma were blindfolded and given placards reading 'yes' and 'no' so that they can answer Bigg Boss' questions. But adding a twist, Bigg Boss gave a live feed of the entire task to the other contestants who were sitting in the living area.
According to the task, if Karishma and Gautam agree on three questions, asked for the benefits of the other housemates, then that will be rewarded to the housemates.
When Bigg Boss asked whether they want Karishma and Diandra Soares should be given back their make-up, Karishma said 'yes', while Gautam said 'no'. Later, Bigg Boss asked whether they wanted to relieve Sushant Divgikar from sevak status, Gautam agreed, but surprisingly Karishma said no.
Things took an ugly turn, when Karishma came to know that Gautam said no to her make-up. She picked her make-up over good friend Sushant, which shocked other inmates as well as viewers.
While Karishma turned villain in the house, Gautam became the hero for supporting Sushant, who apparently nominated him.
On one hand, Karishma received flak from housemates as well her fans and other viewers, on the other twitteratti started praising Gautam.
Even Bollywood celebrity Riteish Deshmukh tweeted saying that Gautam is entertaining in the house.
"BigBoss8.- Gautam is too entertaining - 'Bhagwan ne tumhi itni achchi skin di hai' is d line of the week," he said.
Check out the reactions on Karishma-Gautam fight over make-up below:
Jigar Raval: I liked @karishma_tanna very much....BUT,,,,,........AFTER WATCHING @BiggBoss I M HATING HER #STUPID
Vikäs: Karishma Tanna Dat selfish vamp right ?
aeishwariya: gautam s trending for his goodness nd house nd karishma for her wickedness #BB8
Robil Singh Pathania: Yesterday's episode proved that Gautam is real Hero and Karishma is real Witch. Well done Gautam, you revealed her real face #BB8 #BiggBoss8
ksipraah phnx: Karishma Tanna the biggest hypocrite and ill mannered person of 2014...shame
Smita Menon: if Gautam wins.. He will have to thank Karishma in his acceptance speech..I hope he does too.. Much deserving
‏@arsebieber: omgg karishma tanna is so self centred how could she chose her makeup over shushant
Arjun Sarabhai: Behind every successful Gautam Gulati is a Karishma Tanna.!!! She has made him a sureshot winner.!!#GoGautam
Charanpreet Kaur: Karishma was so rude to Gautam over her makeup & he was just sitting there all calm lol #BiggBoss8