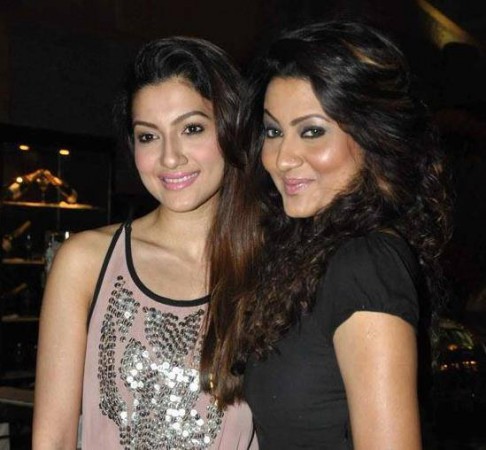 "Bigg Boss 7" winner Gauahar Khan, who was apparently campaigning for Nigaar Khan for the last couple of weeks, has said that she is proud of her evicted sister for maintaining dignity during her short stint in the "Bigg Boss 8" house.
Nigaar Khan entered the "Bigg Boss" house as the fourth wild card entrant on 11 November. Since then Gauahar had been talking about her on her micro-blogging page. She praised her sister and noted how she was being sensible in the house, and also kept retweeting the viewers' post that favoured her sister's stint in the house.
Gauahar often condemned the strategies of her sister's opponents from outside the "Bigg Boss" house and also bashed Pritam Singh on the second day of Nigaar's entry. The season 7 winner tweeted, "Pritam.... #shame..... Tokin abt sm1 who has nthbg to do wid d topic.... #truecolors..i actually praised him wen I went on d show..#shame."
On 16 November, Gauahar also expressed her disappointment over division of workload in the "Bigg Boss" house. The "India's Raw Star" host tweeted, "Make breakfast fr 11 people n then sweep d garden??? Wow... Real fair distribution of workload..#greatcaptaincy???#bully."
Gauahar also criticised other contestants and retweeted viewers' post that apparently conveyed her opinions. On 20 November, she retweeted a post by Honest BB8 Critique that read, "Nigaar was 100% right when she said that the captain cant personally give a punishment. Its not a school but a game show. #bb8."
When Nigaar was nominated along with Sonali Raut, Dimpy Mahajan and Karishma Tanna for eviction, Gauahar requested all her followers on Twitter and fans on Facebook page to vote for her sister and save her. On 21 November, she said, "Guys last day tday .. Pls support my sis send NIG to 56882.. Or u can support online... Grateful fr all ur love... Mwah"
Among the four nominees, Nigaar, who had lessons from her sister before entering, was considered a strong contestant as she had the support of her sister, who was campaigning for her outside. But things could not fall in place as Nigaar was evicted from the house on Sunday, 23 November.
However, Gauahar seems to be satisfied with her sister's stint in the house of "Bigg Boss 8" for a short span of time. Soon after Nigaar was eliminated, she took to her twitter page and wrote, "Sooooooo proud of u my sister..@nigaarzkhan..dignity is wat is urs, n humane is how u lived... Love u ..."
Meanwhile, Nigaar also thanked all the viewers, who supported her during her stint in the "Bigg Boss 8". After coming out of the house, she tweeted, "Thanks to all my fans for wishing the best for me and bringing me back to my beautiful world of positive and genuine people."