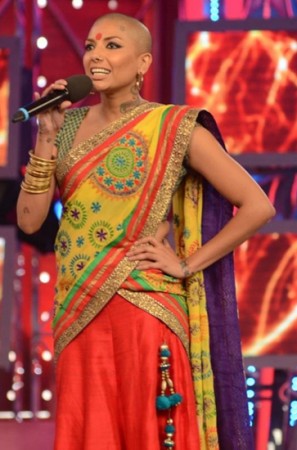 The eviction of supermodel Diandra Soares, who was one of the most talked about contestants in "Bigg Boss 8," has come as a rude shock and disappointment to many viewers of the Salman Khan-hosted reality TV show.
During her stint in "Bigg Boss 8" house, Diandra made headlines several times over her different hairdos and her alleged relationship with Gautam Gulati. With her upfront and straight-forward nature, she managed to impress many viewers and became one of the strongest contenders to the title.
Diandra was nominated for elimination along with other housemates such as Puneet Issar, Praneet Bhatt, Upen Patel, Dimpy Mahajan, Sonali Raut, Gautam Gulati, Pritam Singh and Ali Quli Mirza. Many viewers of the show had thought Upen would be show the door, but Diandra was thrown out of the house, which came as a surprise to them.
Some viewers of "Bigg Boss 8", who are very upset with her eviction, say that they are going to miss her in the house. A few even say that they will quit watching the show as there is no thrill left in it after her elimination.
Here are some viewers' comments on Diandra Soares' eviction from the "Bigg Boss 8" house:
Aaliya
Honestly @diandrasoares13 was my favourite i will really miss her shes so strong hats of to D #BB8 #BigBoss8
Saqib
I never felt so bad after any eviction the way i felt for Diandra. People misunderstood her so much.. #BB8 #BiggBoss @diandrasoares13
Muskaan Hasan
We are going to miss @diandrasoares13 on @BiggBoss !!! I wish I could bring her back she was the only strong contestant...love u always :)
Johnpaul Mathew
@diandrasoares13 She came, She saw and she conquered our hearts. She is our Di. I don't think I am gonna watch BB anymore. Will miss u DI
Naila Sethi
@diandrasoares13 D my whole house loves u...you re one fighter...love your smile and Ur a stunner... ❤️"thank u all love
Neha
@diandrasoares13 Didnt like you in the beginning of #BB8 but my opinion changed at the end. We will all miss your presence in the show!
Mallika Bhandarkar
Loved @diandrasoares13 the most in the #bb8 house gutted that she got eliminated! Such a strong woman her sense of style was the best thing!
Pari-dise
Loved @diandrasoares13 's journey ! Made me emotional. Inspiring woman and proud to be your birthday twin, will miss your big bindis ! #bb8
SubiShrestha
@diandrasoares13 I hated u literally but missing u so much in bb8. The house is not gonna b same w/o u. I hope u mend ways with Gautam
Choetsa
@diandrasoares13 used to hate u being with gautam but today u made us realise that we misjudge u. U r too good, inspiration truely
Rushabh Shah
@diandrasoares13 Is the only #BB8 contestant who has turned her haters into admirers.i m one of them & i know there r many.female salman
Padma
@diandrasoares13 I wasn't impressed initially but now I respect U ! Wish u had stayed till final . Good Luck !
Nikhil Sharma
@diandrasoares13 frm tmrw episode i feel so sad dat i won't be able to see diandra everyday i just lyk watch dis season for D&G
Andy Lee
@diandrasoares13 dai, you are the only contestant i hated so much and as soon as you left the house i am missing you!! You rock babe, luv ya
Aamir Sofi
@diandrasoares13 d aim 2 bring in d nuclear face of d 21st century woman #Diandra was d most extravagant member in d house,Missing u Already