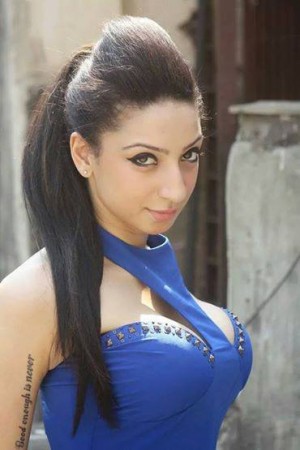 Apart from the controversies, "Bigg Boss" is infamous for casting controversial celebrities.
In season 5 of the reality show, former adult star Sunny Leone was signed to spice things up inside the house. And rumours have now been doing the rounds that this season "Bigg Boss" is planning to rope in another adult star Shanti Dynamite.
According to The Indian Express, the makers of "Bigg Boss" have signed British porn star Dynamite as the second wild card entry to help boost the television ratings of the reality show.
As per reports, the makers wanted to cast a female celebrity who has a controversial past.
But Lehren TV in their report said that she will not be entering the reality show. "These are just rumours and Shanti will not be entering the Bigg Boss house," Lehren TV said.
Even the contestants who got evicted from the show said that it's wrong to promote adult stars on the reality show when there are so many other talented actresses in the industry.
"We all know it is not correct to promote porn stars. Kyun badhawaa detein hain hum inhe? [Why do we encourage them?] There are so many talented people who are waiting for that one chance to prove their potential. Kyun nahi aise logon ko badhawaa diya jaata? [Why don't we promote those people?] I really don't know if the makers are roping in Shanti to offer something new and different to the viewers," ex-contestant Soni Singh told IBNLive.
"As long as she doesn't promote pornography in the show, it is fine. If we get to know about the life she lives and the kind of person she is in real life, it is okay," she added.
Meanwhile, there is no official announcement from "Bigg Boss" about the new wild card entry. Irrespective of Shanti Dynamite's entry into the house, the makers of the reality show evidently need to spice things up as this year the TRP of the show is not up to the mark.
Watch the video below: