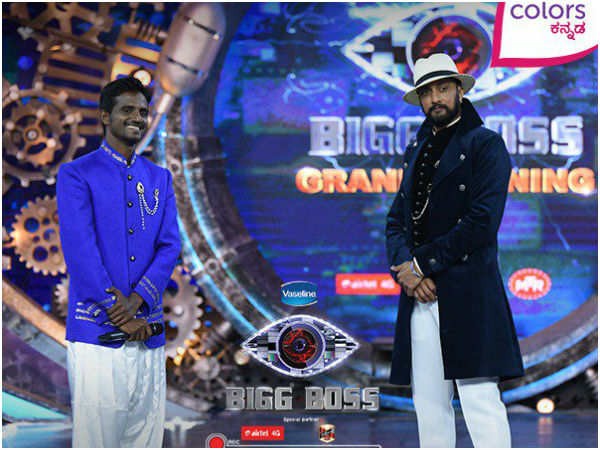 Sudeep has displayed his large-heartedness on Sunday, 28 January, on Bigg Boss 4 Kannada. Well, he had a surprise gift for the first runner-up Keerthi Kumar when he announced a Rs 10 lakh prize from his own pocket.
Pratham is the winner, beats Keerthi and Rekha
Keerthi Kumar had played the Bigg Boss 4 Kannada well and was the top performer when it came to the tasks.
He was a strong contender, but as the popular votes decides the winner, he lost to Pratham, who won the trophy, along with a Rs 50-lakh cash prize.
Sudeep, who was impressed by Keerthi Kumar's performance and online activism on Kannada, appreciated the runner-up and announced the Rs 10 lakh gift. This amount is being paid by the actor himself and not the TV channel. This gesture has been appreciated by the actor's fans as well as viewers online.
Keerthi Kumar said that he would use a share of the amount that he earned from Bigg Boss 4 Kannada for social issues.
"Also, I consider this as an achievement for getting Rs 10 lakh from the host itself," the runner-up said, while thanking Sudeep.
The first runner-up comes from a humble background and has been fighting for causes related to Kannadigas. On the professional front, he reportedly worked behind the camera for many TV channels, as well as newspapers.
He is also making his directorial debut soon and has acted in a few upcoming films, including Guruprasad's Yeradanesala.
Meanwhile, Sudeep has posted on Twitter that he will miss the show, which ended on Sunday. "I shall miss u all on the weekends jus the way u all have showered ur luv thru ur tweets.Shall be bk soon wth a new season n new contestants. [sic]" Sudeep tweeted.
Talking about the participants and the media, Sudeep posted "Contestants were vry entertaining n credits to em all for making it soon wondeful.Thanks to th entire media to have covered it wth equal luv. [sic]"
He ended, "#BB4 has been an amazing season wth loads of eventful moments tat I shall cherrish fr a long time. Amazingly executed by th entire tech team. [sic]"