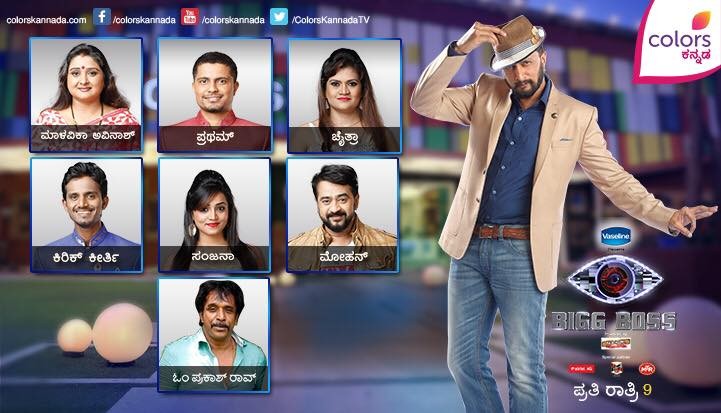 Chaitra has been shown the door from Bigg Boss 4 Kannada. She is the third contestant to leave the house after Vanisri and Dodda Ganesh. This week, seven contestants -- Malavika, Pratham, Mohan, Sanjana, Om Prakash, Chaitra and Kirik Keerthi -- were nominated for elimination from the Kiccha Sudeep-hosted show.
In the end, Chaitra and Sanjana were in the bottom two positions and the former was evicted after she garnered lesser votes than the latter. People had predicted Chaitra to be evicted as her presence was not felt in Bigg Boss 4 Kannada, although she used to entertain the inmates through her singing skills. Hence, her eviction has not come as a surprise to many.
Except Kirik Keerthi, all six have were nominated based on the votes of the inmates. Kavya Shastri, who is the captain of house this week, was asked by Bigg Boss to suggest one name for direct nomination and she chose Keerthi.
"I feel Keerthi would be saved by his fans. So, I have suggested his name," the actress had told the other contestants after the completion of the nomination process.
In the other major highlights, Sudeep tried to address all the issues related to the contestants and Shalini and Pratham's assault episode remained the focal point. The host told her that Pratham was innocent and it was just an accident. But the actress was not convinced.
Sudeep also pointed out to Bhuvan that he was on the verge of being directly eliminated from the reality show for grabbing Pratham by his collar recently.
Earlier Story
Who'll be eliminated this week?
Fans of Bigg Boss Kannada feel that Malavika and Chaitra should be shown the door as their performances have not been up to the mark. Their involvement in the tasks and other activities have come under the scanner. Many on the Facebook page of Colours Kannada have criticised them and called the two as "boring" contestants.
There is also belief among others that either Sanjana or Om Prakash might leave the house. Some fans of the show are confidently claiming that Pratham, Mohan and Kirik Keerthi will be safe this week as their presence in the show has been felt.
The weekend special "Varadakathe Kicchana Jothe" will be aired between 9 pm and 10.30 pm on Saturday and Sunday.