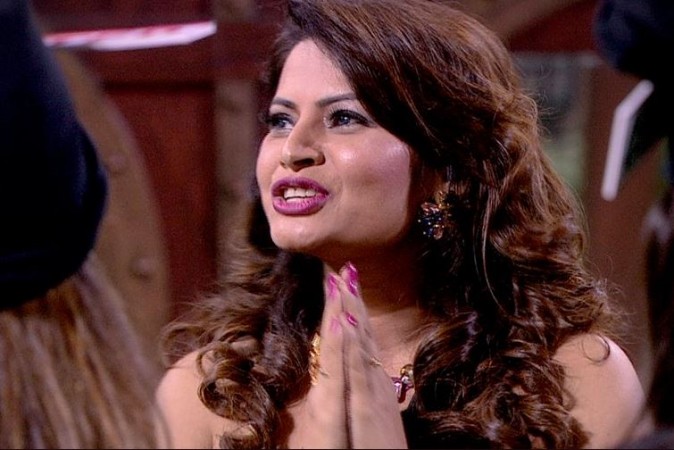 10.00 pm: Bigg Boss introduces Megha to all the housemates. Megha enters the house and tells Surbhi and Romil that they are her favourites. Megha tells all the housemates not to think that the contestants she doesn't like are the contestants she has nominated. Megha says that all those who know how to take a stand for themselves are the ones she likes
9.55 pm: Surbhi calls Sreesanth a loser and a quitter. Sreesanth jokingly says that it appears as if he s playing against Pakistan. Another big fight ensues between Karanvir and Somi. Dipika says that she doesn't support Sreesanth disrespecting women but applauds him for his other strategies. With a lot of dhol and baaja, Megha enters the Bigg Boss house
9.45 pm: In a fit of rage, Somi calls Karanvir a "bloody idiot" which leaves his immensely angry. Surbhi starts calling Sreesanth names. She reminds him that he has a daughter and wife in real life and still doesn't know how to respect women. Saba keeps fighting with Karanvir inside the house. She keeps calling him Sreesanth's tail.
9.35 pm: Saba comes to the house and tells everyone that it is Sreesanth's strategy and he doesn't really want to leave the house. Surbhi, Saba, Anup Jalota, Srishty are nominated for this week. Saba and Somi blast Sreesanth for his hypocrisy. Sreesanth tells Jalota and Sreesanth not to take anything they say now seriously as they would bring the house down since they are nominated.
9.32 pm: Saba, Sreesanth and Karanvir are called in next. Saba tries to defend herself and nominates KV. Both Karanvir and Sreesanth allege that Saba is half the entity without her sister Somi. Megha questions Saba and asks her why she didn't defend herself in front of her sister last week. Megha asks Sreesanth whether he actually wants to leave the show. Sreesanth says it's his strategy and doesn't really want to leave the show. Megha says that Saba has not been able to perform at par with others without her sister and hence should be nominated
9.28 pm: Next, Jasleen, Srishty and Dipika are called into the activity area for the task. Srishty tries to defend herself. Jasleen nominates Srishty for the nominations saying that Srishty only focuses on looking pretty. Dipika says that she would want to nominate Jasleen. Megha says that Jasleen is quite capable of being on the show as of now. Megha nominates Srishty for nominations.
9.25 pm: Somi, Surbhi and Urvashi are the next trio to go to the activity room for the nomination task. Surbhi and Somi nominate Urvashi for the nominations. Urvashi tries to defend herself but to no avail. However, Megha feels that Surbhi needs to control her anger and thus nominates her for this week
9.23 pm: Romil and Deepak argue why they should be saved. Jalota disagrees with their decision. Deepak and Romil decide that Anup Jalota should get nominated. Megha says that she feels Jalota has been trying to play safe and is afraid of tarnishing his image. Megha also nominates Anup Jalota. Later, Deepak tries to convince Jalota that Jasleen doesn't care for him and doesn't understand his value. Jalota agrees to it.
9.20 pm: It's time for the nominations task now. Rohit and Shivashish are safe from nominations. Deepak, Romil, Anup go to the activity area for the nomination task. Bigg Boss asks them to discuss amongst themselves and decide which one of them has not proved their mettle in the game and should be nominated. Megha Dhade has been called to mentor the task. But the contestants can't see her face.
9.15 pm: Jasleen wonders whether Sreesanth would ask her also to give back the bracelet someday upon anger. Srishty, Surbhi and Saba talk about Jasleen's game plan. They talk about how Jasleen tries to be in everyone's good books so as never to go to kaal-kothri or be nominated. Srishty says that she stood up against Sreesanth for his bad behaviour towards Surbhi.
9.12 pm: 36th day morning: Is Bigg Boss hinting something by playing "Tune Maari Entry". Everyone starts pulling Jasleen's leg for wearing the bracelet which Romil had given back to Sreesanth
9.10 pm: He then meets Romil and talks to him about Sreesanth. Deepak, Romil and Rohit form a group and pledge to throw Sreesanth out of the house. Surbhi is seen cribbing about the latest wildcard entry. Surbhi also praises his good looks but also call him "beautiful" than "handsome". Rest of the housemates are seen discussing Jasleen. Housemates allege that Rohit appears to be bisexual. Sreesanth enacts Rohit inside the house which leaves the housemates laughing
9.05 pm: Rohit Suchanti makes a grand entry with the song "proper patola". Housemates also start dancing with Rohit on the song. Rohit meets everyone and touches Jalota's feet as a sign of respect.Saba and Somi start gushing about Rohit and his good looks. Rohit is seen discussing Deepak's strategy with him. He tells Deepak to continue his play.
9.03 pm: It's day 35 in the house. Romil and Anup Jalota are seen discussing whether real relationships should be made within the house or is it all a part of the game. Romil talks about how Sreesanth is dual faced. On one hand he talks about respecting women and on the other, he abuses women. Sreesanth and Dipika are seen discussing Dipika's gesture towards Romil. Sreesanth questions Dipika's intentions behind giving freshener to Romil during the torture room task. Dipika also tells Sree that why he didn't say anything to her after coming back but told everyone in the house about her. A fight ensues between the two and Dipika leaves from there.
The drama and tension within the Bigg Boss house is set to go up many folds, with tonight's episode. To spice up things inside the house, Bigg Boss would introduce two sizzling new wildcard entries into the house. While many would welcome new entrants with open arms, many housemates would be keen on maintaining a distance.
After Surbhi Rana, the two new wildcard contestants are Rohit Suchanti and Megha Dhade. While Megha has an immense fan following among the Marathi audience, Rohit had also won many hearts with his shows.
The duo would enter the house with rocking dance performances. Housemates would welcome them with mixed emotions. Megha Dhade was declared the winner of Bigg Boss Marathi this year.
A known face on small screen, Megha has worked on serials like Pehchan, Kasturi and Kasauti Zindagi Kii. Megha was known as the "drama queen of the house" during her stay in the Bigg Boss Marathi house. Upon arrival, Megha would tell each of the contestants whether or not the audience has accepted them yet.
Rohit Suchanti is also a known face from the small screen. Having worked on shows like Saath Nibhana Saathiya and Pehredaar Piya Ki, even Rohit has a loyal fanbase. Rohit teams up with Romil Chaudhary and Deepak Thakur to strategize Sreesanth's eviction.
What new twists and turn will these two bring inside the house, let's wait and watch!