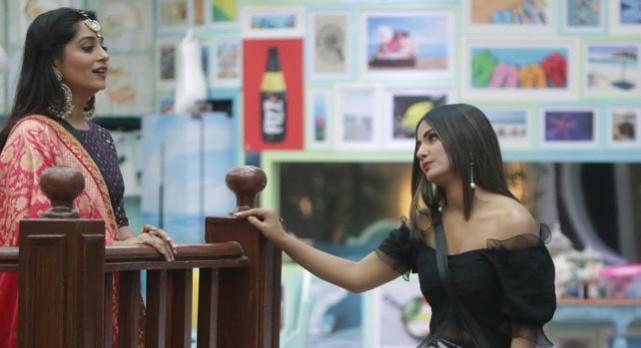 09.55: Aditya Narayan sings 'Yun shabnami pehle nahi thhi chandni...' while Bharti completes the karwachauth rituals. Salman announces that Aditya and Bharti would enter the Bigg Boss house from the stage.
09.50: Bharti enters the stage dressed as a dulhan with a karwachauth plate. She expresses her desire to celebrate karwachauth with Salman Khan. Her mannerisms and body language leaves Salman rolling on the floor with laughter.
09.45: Sreesanth says that Dipika, Jasleen, Somi and Srishty are like his sisters and he will continue this relationship outside the house too. Salman Khan announces that Sreesanth, Karanvir and Dipika and Srishty are safe from the eliminations this weekend.
09.35: Aditya Narayan enters the stage and sings 'Tattad tattad' for the audience. Aditya Narayan mimics Kumar Sanu, Anu Malik and his own father Udit Narayan. Aditya says that he knows Dipika and Sreeanth from before and has loved watching them on the show. Aditya dedicates the song 'Pyaar humein kis mod pe le aaya...' to Deepak', 'Phoolon ka taaro ka...' to Sreesanth.
09.33: Hina Khan exits the house. Megha and Jasleen are seen talking about Anup Jalota's statements outside the house. Jasleen says that he was ready to confess it to everyone then why change his stance now. She also leaves a strong message for Jalota on one of the cameras.
09.30: Jasleen is the next one into the katghara. Hina brings up the topic of Anup Jalota and Jasleen's fake relationship. Jasleen denies these allegations and says that she hasn't faked the relationship to just enter the show. Jasleen says that Anup Jalota might have been feeling conscious, outside the house facing everyone and hence might have denied this.
09.27: Hina says that Sreesanth gets angry and says something but later ays it was his game plan or just a dialogue from the film to save himself. Sreesanth says its true and is acquitted. Next, Surbhi is called inside the katghara. Hina asks Surbhi about the sudden friendship between Sreesanth and her. Surbhi says that she isn't his friend yet but just that the dislike between them has reduced. Surbhi says that she felt KV, Dipika and Srishty have always just pretended to be his friend but have never really been his true friends.
09.25: Romil says that everyone in the house feels that Dipika has not been able to come out of her character from 'Sasural Simar Ka'. Hina Khan asks Kakkar to get that winning attitude she had back. Sreesanth is the next one to have been called into the katghara. Hina calls Sree a 'magnet' around whom everyone revolves.
09.20: Hina Khan says that everything that Dipika does or says revolves around Sreesanth. Dipika says that when Sreesanth was unwell she had spent a lot of time with him and understood his potential and hence has been trying to be around him throughout. Hina says that after fighting with Sreesanth, she wasn't seen anywhere in the house which goes onto prove that Dipika is dependent on Sreesanth for her existence inside the house.
09.17: Jasleen confronts Romil and says that the game he played was dirty and he tricked people. Somi also says that she doesn't feel a part of the group as all the decisions are taken by Surbhi and Romil. Hina Khan forms her adaalat inside the house and calls Dipika into the katghara.
09.15: Appy Fizz caller of the week asks Megha why has she lost her gameplay. Megha says that she has understood the game and will bring her A-game from now on. Salman asks Romil why has Megha not been able to make a place for herself inside the house. Romil says that since both the groups have become so strong that they don't want to allow anyone to enter into their group.
09: 12: Salman also tells Jasleen that she had been put up against Sreesanth because no one wanted to be paired up against him. Talking about the ranking task, Salman tells the housemates that Sreesanth's ranking as number 1 was perfect. Khan adds that people can hate him, love him but certainly can't ignore Sree. He says that the last two contestants - Shivashish and Urvashi also were standing at well deserving spot. But, he feels that Megha should have been put one step down and Srishty should have been put two ranks up.
09.10: Salman asks Megha who could have become the captain of the house if not Sreesanth. Megha says that it could have been Karanvir, Megha or Shivashish. Salman says that Megha should have brought this up while captaincy was being discussed and not now.
09.05: Salman congratulates Sreesanth for becoming the captain of the house and says it was Romil who planned everything and made him the captain. Salman also pulls Jasleen's legs for losing with such a huge margin.
Things are going to get pretty intense with Hina Khan bringing housemates to the katghara and asking them some serious questions.
Will Jasleen and Dipika Kakkar be able to justify their stand or will they be found guilty? Find out all in tonight's episode as we bring minute by minute happenings of the show to you at 9pm.