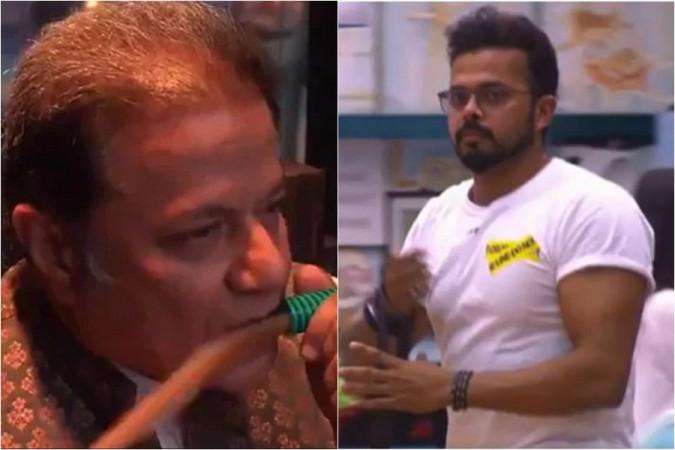 The biggest highlight of all seasons of Bigg Boss has always been its weekend ka vaar episodes with Salman Khan. And as expected, the first weekend ka vaar of Bigg Boss 12 was no different with the focus on Sreesanth and Anup Jalota. At the beginning of the show, Salman decides to teach everyone a lesson or two about what a real prank actually looks like. Salman asks anchor Dibang to come up with fake stories to create some false tensions within the house.
Shrishty's lies exposed!
Dibang accuses Shristy of commenting on the relationship of Anup Jalota and Jasleen behind their back. When Salman pulls Shristy up for the same, she fails to remember anything she has said. After grilling Shristy for a while, Salman finally reveals that she has not said anything, which leaves Shristy teary-eyed.
Saba – the biggest gunahgaar of the house!
When Salman asks all the contestants to choose the biggest gunahgaar of the house, most of the inmates take the name of Saba as the person who has created maximum ruckus within the house in the first week. Saba reasons that it is her straight-forwardness and non-diplomatic attitude that makes people believe she creates troubles within the house. The blame-game begins and ends with Saba crying her hearts out.
Sreesanth breaks down after being grilled over his 'upbringing' remark
Salman first fires salvo at Sreesanth over his 'upbringing' remark reminding him that it is a very heavy word, which goes directly to the parents, and hence Somi's response too was justified. However, Sreesanth was quick to respond that he said it in a fit-of-rage and was apologetic for his behaviour. Next, Salman makes fun of Sreesanth giving up the task like a loser. He also reprimands his team for not coming out in his support as it was a task of singles vs jodis.
After Salman leaves for a break, Sreesanth locks himself inside the bathroom along with Karanvir Bohra, and was heard crying.
Anup Jalota goes to the torture chamber
During the show, it is revealed that Karanveer had advised Anup to choose Dipika as the captain which he had agreed to do. This leaves the jodis blaming him of playing an unfair game and they all send him to the torture chamber.
The episode ends with Salman warning the inmates that the audience feel this season's celebrities are quite thanda and it's not their votes which can save them this time. He also advises all the inmates to participate in the task with excitement and all fairness.
It's just been a week and we have already seen the house being brought down by some of the inmates. Now, what more drama and adventure the house will witness, we hope to see it in the coming weeks.