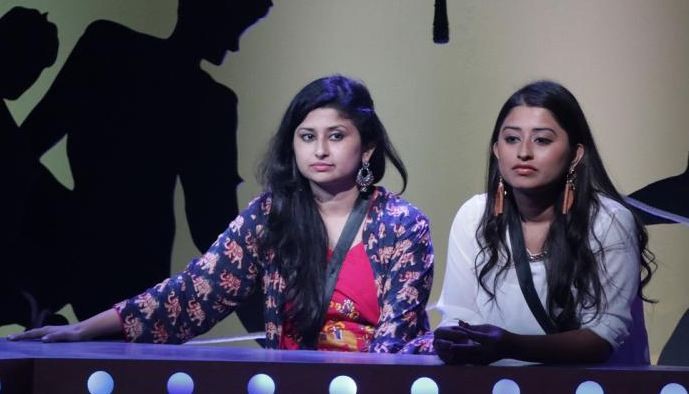 The most torturous, dreaded and feared task of every season, has left Bigg Boss 12's contestants gasping for breath (literally!). The second luxury budget task of the week began by dividing the inmates into two groups – jodis and singles.
A ship like structure is placed in the garden area with a few golden rings. Firstly, the singles have to sit on the chair in the ship, holding the ring and not let it drop or give up. The jodis first turn into pirates and have to torture the singles (one-by-one) in such a way that they either give up, get up from their chair or drop the ring.
We have seen the contestants come up with the worst possible ways to make the competitor give up, and this time was only worse. First, singles were asked to sit on the chair. While Neha Pendse, whom we thought was a weak contender refused to let go, Srishty emerged as the weakest link. While Dipika Kakkar was ousted by foul play, Karanvir Bohra also bore their torturous brunt successfully.
In tonight's episode, the spotlight turns on jodis, who now have to sit on the chair. Somi is the first one to sit on the chair and had met with the same fate in the hands of Dipika Kakkar and Karanvir Bohra as she had done to them yesterday.
However, seeing Somi's plight, Saba loses her cool and starts provoking Dipika to distract her from the task. When Dipika doesn't pay any heed to Saba's name calling, Saba ends up calling her a "ghatiya aurat". A war of word ensues between the two, with Dipika focussing on her task back again.
Next comes Jasleen Matharu. With an intention to sit throughout the duration of the task, Jasleen takes the throne. However, when the torture doesn't seem to end, Jasleen is seen throwing away the golden ring and calling Dipika "cruel". Well, this isn't a first for Dipika, who was also labelled as a "cranky mother-in-law" by Jasleen in one of the previous episodes.
With such high-voltage drama, it would be interesting to watch who wins the task tonight – the jodis or the singles.