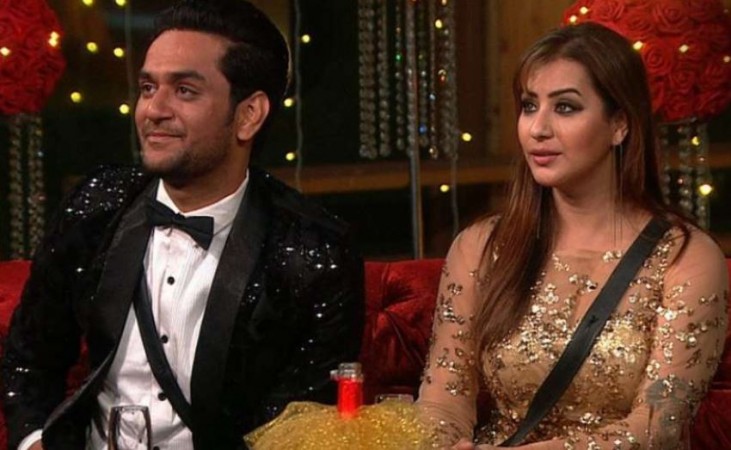 09.57: Megha is seen discussing with Romil that she would never get the assurance in his team. Romil tells her that her one move changed everyone's opinion about her. Jasleen and Deepak are seen discussing Somi's reaction towards him. Shivashish, Srishty, Surbhi and Rohit steal a couple of appy fizz from the locked fridge.
09.55: Shilpa Shinde tells Sreesanth that she loves his game play and he should continue the way he is playing. She also tells him that his friends are not letting him be friends with another good contender - Romil. Sreesanth says that he knows all those who pretend to be his friends very well and is playing his individual game.
09.50: Dipika and Vikas are seen discussing her strategy. Vikas tells her that she has become quite quiet for the last two weeks. He tells her not to take Sreesanth and her equation with him seriously and to speak up where necessary. He also asks her to take a stand for herself and not give up in front of Sreesanth.
09.45: Romil tries to make Somi understand to take the matter with Deepak lightly and not as seriously as she is taking it. Somi says that she wants to be known for her individuality and not for as anyone's girlfriend. Later, Surbhi apologises to Sreesanth for everything wrong she had said to him.
09.35: Bigg Boss cancels the second round when Shilpa and Vikas fail to reach a decision. While Vikas' team is disappointed with the result, Shinde's team is happy with Bigg Boss' judgement.
09.30: Jasleen is left shocked knowing that Anup Jalota has said that their relationship was purely based on music and there was romance. The second round of the competition begins. Both the teams try their level best to destroy each other's rangolis. Shilpa and Vikas again get into an argument over the decision.
09.25: When the buzzer goes off, both the teams begin making rangoli. Urvashi and Megha make good rangolis. Shilpa Shinde and Vikas Gupta get into an argument while deciding whose rangoli is better. The first round is won by the Gupta family.
09.23: Gupta pariwaar members are Vikas, Sreesanth, Jasleen, Shivashish, Dipika, Megha, Srishty and Karanvir. Members of the Shinde family are Shilpa, Deepak, Surbhi, Somi, Rohit, Romil, Sreesanth and Urvashi.
09.20: Vikas Gupta and Shilpa Shinde enter the house. Shilpa tells Jasleen that a lot has been happening outside. She also tells her that Jalota got into a verbal argument with Jasleen's father. Vikas makes fun of Somi and Deepak. The house is divided into two groups - Shinde family and Gupta family. A rangoli competition has been organised where both the teams have to make rangolis and try to damage other team's rangoli.
09.15: Deepak gives a biscuit to Somi which she refuses to eat. Later, Rohit gives the same same biscuit to Somi which she eats. This leaves Deepak irked. Bigg Boss asks all the housemate to assemble in the living area. Bigg Boss announces that Shilpa Shinde and Vikas Gupta would join them inside the house.
09.10: Deepak tries to woo Somi and praises her a lot. Somi says that she wants to go on a date with Salman Khan. Urvashi overhears the conversation and is jealous. Surbhi gets angry at Romil for talking to Sreesanth. Romil defends his actions and an argument ensues between the two. Bigg Boss sends good food items as Diwali gift which leaves the housemates elated.
09.05: Sreesanth says that he wants to go to the akhaada against Karanvir and would like to fight him off. Meanwhile, Deepak tells Somi that she looks beautiful without much makeup and thus should avoid decking up her face with cosmetics.
09.02: Housemates wake up to 'Ho Ja Rangeela Re' and seem to be in high spirit for the day. Sreesanth discusses with Jasleen and Shivashish not to let Srishty, Dipika and Karanvir win. On the other hand, Dipika says that she Karanvir and Srishty can't play as a team because the team has been split. Sreesanth tries to form a bond with Romil.
It's time for some music and celebration within the Bigg Boss 12 house as Shilpa Shinde and Vikas Gupta enter the house for some fun, frolic and firing.
While housemates would be surprised to see Shilpa and Vikas enter the house, they would also have a gala time enjoying various competitions with the celebrity guests. Shinde and Gupta would also lend a piece of their mind and thoughts to the housemates over their 'thanda' performance so far.
Are you excited for tonight's episode? We sure are. Watch this space at 9pm for all the deets from inside the house tonight.