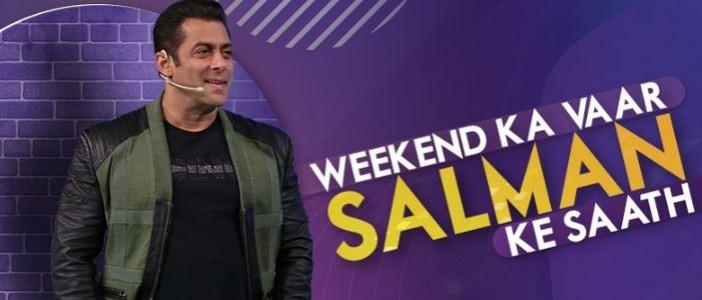 09.57: Salman says that he would announce the names of those who are going to get evicted tomorrow.
09.50: Salman informs the housemates that it would a double eviction this week which leaves the housemates shocked. Srishty, Anup, Saba and Surbhi Rana are nominated for this week's elimination.
09.45: The fight between Sreesanth and Rohit intensies. Jasleen tries to make Rohit understand that she was not involved in making fun of him. Rohit says that he is straight and forgives everyone who has said anything about him.
09.35: Salman shows the housemates a clipping of all those who called him 'gay'. The video leaves Rohit shocked. Karanvir tries to defend himself and says that it wasn't his intention and he was hinting at something else. Salman says that those who are making fun and those who enjoy such jokes are too at fault. Rohit loses his cool and bursts out at Sreesanth and Shivashish.
09.30: Sreesanth reveals his logic behind supporting Megha and later changing their decision against her. Jasleen says that Dipika is insecure of Megha and thus wasn't supporting her. Surbhi says that there has been a race of being in the kitchen by Dipika and Megha, however the best cook is Somi.
09.27: Sreesanth locks himself inside the bathroom and cries his heart out. Housemates try to console him. On being asked, Srishty gives Shivashish 0 points as the mentor of the captaincy task. Surbhi accuses Shivashish of being partial and not being a fair sanchalak. Salman calls Shivashish the 'worst' sanchalak throughout all the seasons.
09.25: Sreesanth continues arguing with Salman and the housemates. Trying to control his anger, Salman tells Sreesanth that this is not the Sreesanth people would like to see. Dipika apologises to everyone for behaving as if she was blinded by Sreesanth's attitude. Karanvir and Srishty are seen talking about how Dipika, Shivashish and Jasleen have lost everyone's respect.
09.22: Surbhi tells that Dipika never tells him anything when he does something wrong but later goes on tells him very politely. She never tries to make him understand his mistake. Salman asks Sreesanth what's the reason behind his pride? Sreesanth says that it is his attitude. Salman also tells him not to threaten anyone.
09.19: Sreesanth says that whatever he said was wrong but everyone had been targeting him for the last few weeks and that was the reason he said all that. Salman says that the audience have seen everything he has done and that's why Sreesanth has been made to sit on the khalnaayak chair. Dipika also intervenes and says that she tries to tell him not to abuse but when he doesn't listen to her, she leaves him alone.
09.15: Salman reprimands Dipika for always trying to take his side. He tells her that no one has seen her opinion or views in front of Sreesanth. He also added that it seems Dipika has just been trying to handle and cheer up Sreesanth throughout the day. Salman says that it appears that Dipika has lost the judgement to distinguish between right and wrong. Dipika says she would work on it.
09.13: Salman asks Jasleen to say the truth and she says that Sreesanth taunted them about not being upto his standard. Shivashish tries to defend Sreesanth. "Magar ye show class hai yaar, kal se main bol raha thha ye world's worst show, aaj bolta hoon ye best show hai. Jin logon ko hum gaadi mein baithe baithe 1-2 rs dete hain, vo aaj hamare saath baithe hain," Salman repeats Sreesanth's dialogue and asks the housemates who all think it was fair of him to say this. Except for Shivashish no one raises their hand.
09.10: Salman first welcomes the wildcard entries and then asks the housemates to take one name for the khalnaayak kursi. Majority of the housemates take Deepak's name but Salman says he would send Sreesanth. Salman taunts Sreesanth about how every week he plans that he would send people to jail and ends up going to the jail himself. Surbhi says that it's his karma, antics, gimmicks which ultimately leads to him going to the jail. Deepak too talks about how Sreesanth talks about his money, power and shows-off.
09.05: Salman also shows us what happened the previous night with Sreesanth inside the jail and Deepak. Sreesanth not only abused him but also called him his naukar. The fight gets heated and ends into an ugly fight between the two. Jasleen tries to make Sreesanth understand but to no avail.
09.01: The weekend ka vaar begins with Salman Khan taking us through all the ups and down inside the house during the sixth week. He also talks about how Deepak and Urvashi broke up and the other jodi that broke up was that of Karanvir and Sreesanth. Salman talks about how the house has also been divided into two clear groups.
It's going to be an intensely tense night tonight, with temperatures soaring through the roofs. While Salman would be seen at his angriest best, condemning and ridiculing Sreesanth's behaviour; Sreesanth would walk out of the living room in anger.
Things had turned ugly between Sreesanth and Deepak last night, when the former called him "gareeb" and many other names. While many of the housemates would declare Deepak as the gunahgaar of the week, it would be Salman who would call out Sreesanth as the biggest gunahgaar instead.
What's more interesting tonight is the fact that there would be double eviction this week with Anup Jalota, Saba Khan, Surbhi Rana and Srishty Rode being nominated for this week's eviction.
Stay tuned for live updates from the show at 9pm.