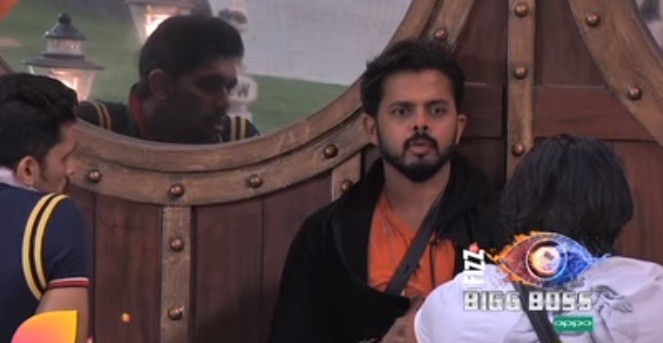 09.59: Shivashish tries to make KV understand that it all happened in the spirit of the game. KSreesanth says that he would file an FIR against Karanvir. Later, KV apologises to him over his behaviour. Romil and Deepak talk about Sreesanth's strategy and say that as a human they have lost the respect they had for him.
09.55: Housemates empathise with Karanvir and ask him to maintain his cool. Deepak and Surbhi try convincing Sreesanth not to do anything as he is the one who would be shown in bad light. Dipika and Karanvir are seen discussing that the injury Sreesanth has sustained is minor and he is just trying to showcase it as something else to turn it into an issue.
09.50: Sreesanth and Karanvir start arguing about who started the fight. Sree calls him 'beech wala' and also makes fun of his legacy. Sreesanth threatens to hurt Karanvir and says he would physically hurt on him. Later, Karanvir is seen talking to Dipika when Sreesanth runs towards them again and threatens to hit KV.
09.47: Rohit and Dipika form a bond and say that they would miss each other after the show. Dipika says that she is still shocked over all the comments Sree made against her. Sreesanth makes fun of them by clapping and commenting. He also tells Jasleen and Shivashish that they should be the captain next and he would support both of them for becoming the captain.
09.44: Vikas Gupta and Shilpa Shinde are seen talking to each other. Shilpa tells Vikas that his face looks cruel and fierce. Vikas tells her that he finds her face pretty and calm. Bigg Boss announces that Shilpa and Vikas will have to go back now.
09.40: Romil tells Shilpa that she was not that fair and had almost given up. He tells her that she should have come up with some strategy to make them win. Shivashish tells Sreesanth that he was highly wrong and shouldn't have resorted to physical tactics.
09.35: Dipika cries and is shocked with Sreesanth's behaviour. Sreesanth had said a number of things to Dipika which leaves her shaken. Vikas, Karanvir and Dipika decide not to take Sreesanth's attitude anymore. Bigg Boss announces the end of the task and declares Gupta family as the winner.
09.30: Dipika breaks down seeing all this. Karanvir also sustains minor injuries during Sreesanth's push. Shinde's team try their best to damage other team's rangoli. Surbhi makes a small rangoli. However, Vikas takes the final call and cancels that particular round.
09.25: Another round begins where Romil and Karanvir go to collect the items. Sreesanth comes to take things from Karanvir forcefully. Romil and Sreesanth try to take things from Karanvir. Vikas Gupta joins to protect the materials of his team. In a fit-of-rage, Sreesanth says that he wants to push Karanvir and runs to hit him. A physical fight ensues between Sreesanth and Vikas.
09.20: Sreesanth decides to change his group and joins Shilpa's group. He again rushes towards Vikas and makes indirect comments on his sexuality. Megha and Srishty intervene and fight with Sreesanth. Surbhi supports Sreesanth and gets into an argument with Vikas' entire team.
09.17: As the exchange gets heated, Sreesanth calls Vikas a 'loser'. In retaliation, Vikas calls him 'badtameez' and 'ridiculous'. Sreesanth also calls him 'fake' and sets out to hit him. Shivashish and Dipika intervene and take him towards the other side.
09.15: Sreesanth asks Vikas Gupta to send someone else instead of Karanvir for collecting the items. A war-of-words ensues between Vikas and Sreesanth. Vikas asks Sreesanth to play as a team but Sreesanth refuses. Sreesanth threatens him by saying he knows a lot about Vikas. Vikas says everyone knows a lot about him and even Vikas is aware of his tactics.
09.10: The rangoli task begins again. Just like yesterday the task gets intense with Romil trying to steal things from Vikas' team. Housemates start throwing water on each other's rangolis. Shilpa's team starts writing with marker. Vikas team informs Bigg Boss that it's not allowed.
09.05: Urvashi is seen telling Somi to inform all the housemates that she has no feelings for Deepak. Somi says that she has already told this to everyone. Urvashi says that maybe Deepak has forgotten that there is a life outside the game too.
09.02: Housemates wake up to an energising number 'Ye Ladki Hai Deewani' from 'Kuch Kuch Hota Hai'. Vikas Gupta and Shilpa keep teasing each other throughout the song. Karanvir asks Vikas Gupta for a guideline. Vikas tells him that he has been giving his all but non with full intention. Vikas tells him to play with gutts and leadership.
It is going to be an intense day inside the Bigg Boss house with Vikas Gupta and Sreesanth locking horns. We had seen how things had started to turn ugly between the two when Vikas entered the show and sarcastically reminded Sreesanth that they had done a show together so how could he not know him.
On the other hand, Shilpa Shinde went ahead and told Sreesanth that she loves his game play and would love to see him continue like this.
In tonight's episode, we would see things turn down and dirty with Vikas and Sreesanth lambasting each other. Even though it appeared as a regular banter, things would take a nasty turn when Vikas would call Sreesanth 'ridiculous' for his attitude which would make Sreesanth so angry that he would walk towards Vikas with an aim to hit him.
Watch this space for all the deets on tonight's sensational episode at 9pm.